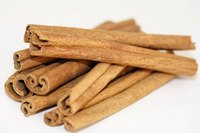 Cinnamon is a one of the most common items in an American spice cabinet. In fact, the most common form of cinnamon -- the one you probably have at home right now -- is not true cinnamon at all, but rather cassia bark. True cinnamon, also known as Ceylon cinnamon, is more expensive, is harder to find and had no known health risks. Cassia cinnamon, on the other hand, is a different story. Small amounts are not likely to harm you. However, as with most items, too much of a good thing can be dangerous.
Liver Damage
Cassia cinnamon contains a chemical known as coumarin, which has been linked to liver damage. Most people who occasionally enjoy foods flavored with cinnamon shouldn't have any problem, but according to the Food and Safety Standards Authority of India, "relatively low doses of coumarin cause liver damage" if you happen to be particularly sensitive to its effects and you've been consuming it regularly. Your doctor might notice during a blood test that you have elevated liver enzymes in blood, even if you feel fine. In worse cases, you might have symptoms such as jaundice.
Anti-Coagulant
Another known effect of coumarin is its anti-coagulant effect -- meaning that your blood is prevented from clotting properly. Although certain medicines are used for exactly this purpose -- to prevent clots from forming in your arteries and veins, for example -- coumarin could cause bruising or excessive bleeding. The people who are most at risk of bleeding related to their cinnamon intake are those who are already taking medicines to prevent clotting. If you are, ask your doctor about the safety of consuming cinnamon.
Risks for Pregnant Women
Cinnamon was once believed to cause miscarriages. However, there is no firm scientific evidence to support this belief. If you're pregnant, your doctor will probably not advise you to avoid all cinnamon -- such as the amount you'd typically consume as a seasoning in food -- but some women feel it's wise to avoid consuming large quantities of cinnamon while pregnant.
Risk to Diabetics
Cinnamon capsules are marketed as a way for diabetics to regulate their blood sugar. However, the jury is still out on whether this really works. According to research published in 2011 in the "Journal of Dietary Supplements," cinnamon has been demonstrated to lower blood glucose in animals, but the available data on humans has shown "conflicting results." If you have diabetes and want to try cinnamon capsules, speak with your doctor first -- the capsules may interact with your existing medications and increase your risk of hypoglycemia.