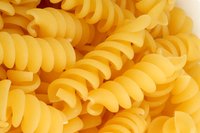 In healthy people, blood sugar levels are slightly higher after a meal. This increase triggers the release of insulin, which is a hormone produced in the pancreas. Insulin can carry sugar molecules, also called carbohydrates, into the cells, thus preventing overly high blood sugar levels and consequent diabetes. On the other hand, too much insulin can cause low blood sugar, also called hypoglycemia. Low blood sugar levels after a meal can be a sign of an excessive production or intake of insulin, in the case of diabetics, a diet low in carbohydrates or undiagnosed cancer in the pancreas.
Insulin in Excess
The pancreas of type one diabetics has lost the capacity to produce insulin. This explains the vital necessity of a regular intake of insulin to keep diabetic's blood sugar levels under control. Diabetics have precise insulin doses to take, very often at mealtimes. A higher-than-normal dose of insulin can cause blood sugar levels to drop drastically, even after a meal. In the case of non-diabetic people, low blood sugar after a meal can indicate an overactive pancreas, which characterizes a condition called hyperinsulinemia, according to the Jewish Hospital's Cholesterol and Metabolism Center.
Lack of Carbohydrates
Different foods vary widely in their carbohydrate content. According to the United States Department of Agriculture, bananas, for instance, have roughly twice as much carbohydrate as melons, while rice can have six times more carbohydrate than pumpkins. A balanced meal should include a source of carbohydrates, abundant in potatoes, bread, pasta, rice and beans, among other foods. A person on a diet poor in carbohydrates can experience low blood sugar levels, even right after a meal.
Tumor in the Pancreas
If a person with normal insulin has low blood sugar after a meal rich in carbohydrates, this can be an indication of a tumor in the pancreas, reports the NetDoctor website. Cancer of the insulin-producing part of the pancreas is often benign, meaning that it does not grow aggressively or spread to other parts of the body.