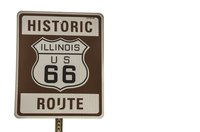 It only takes a day to taste the simple life of the Central Illinois Amish, to experience car culture along Route 66, the famed Mother Road, or to pack in discoveries at an array of historic sites and kid-pleasing venues in the Land of Lincoln.
Kid-Friendly Decatur
You can easily pack a family day trip to Decatur with learning and discovery. The Children's Museum of Illinois at Scovill Park offers two floors of hands-on exhibits to inspire youngsters. Kids can experiment in the bubble room, race rubber duckies at the water table and role play at the museum's mini grocery store, emergency room, pizza parlor or broadcast station. The museum closes only on major holidays and admission is free for tykes two and younger. The adjacent Scovill Zoo is home to more than 400 animals from six continents. A ride on the Endangered Species Carousel's hand-carved puffin, sunbear and other protected species provides children with an awareness of conservation issues. A jaunt aboard the Z.O. & O. Express Train, an 1863 replica steam train, offers a narrated zoo tour. Stop at the Zoomarket for snacks and beverages, or bring your own to picnic to the park. Scovill Zoo welcomes visitors from early April through November.
Land of Lincoln Highlights
Spend a day in the Land of Lincoln connecting to the revered 16th president of the United States. Springfield hosts a variety of historic attractions linked to Honest Abe. The Lincoln Home National Historic Site offers tours of the house where the President and his wife lived for 17 years. Allow two hours to explore the home and the surrounding four-block neighborhood with its 12 structures reflecting life in the 1860s. Everyone from children to scholars will enjoy the Abraham Lincoln Presidential Library and Museum. This 50,000-square-foot institution presents immersive experiences in "you-are-there" settings, in addition to traditional galleries. The presidential library contains 12 million books, documents and artifacts, including the original copy of Lincoln's Gettysburg Address. Other Springfield Lincoln sites include Lincoln's tomb, the Lincoln family church pew, Lincoln's law office and the Old State Capitol building. Stick with the day's historic theme with a meal at Robbie's Restaurant. Located across from the Old State Capitol, Mary Todd Lincoln's brother-in-law operated the original business at the site.

A Classic Road Trip
Spanning 2,400 miles between Chicago and Los Angeles, with 400 miles stretching across Illinois, Route 66 was known as the Main Street of America when it was built starting in 1926. The Central Illinois segment winds through Atlanta, Bloomington, Chenoa, Lexington, Normal, Springfield and other communities. Dozens of attractions sit along the celebrated route, making it possible to customize a day trip itinerary. Highlights include Memory Lane in Lexington, an original one-mile segment of Route 66 that showcases vintage billboards and Burma-Shave signs. Dating back to 1931, Sprague's Super Service station in Normal accommodated countless travelers along the "Mother Road." In Atlanta, Memories: Route 66 Museum preserves the history of the roadway, car culture and local history. Shea's Gas Station Museum in Springfield also salutes the road's golden age with gas station and oil company artifacts. Order a corn dog on a stick at Cozy Dog Drive In in Springfield, the southernmost point along the Central Illinois leg. This retro eatery memorializes Route 66 with memorabilia and a large collection of Route 66 souvenirs.
Central Illinois' Amish Country
Share the simple life for a day with the Amish of Central Illinois. The communities of Arthur, Arcola, Tuscola and Sullivan are home to the state's largest Amish populations. The Illinois Amish Interpretive Center in Arcola is a good starting point, providing an introduction to the Amish way of life. The center is located at Rockome Gardens, where beautiful gardens, Amish food and handmade items delight visitors. With 4,000 residents, Arthur is the largest of the communities. It's known for Amish wood products, an old-time soda fountain and more than 20 country shops. To dine at one of the largest buffets in Central Illinois, visit Amishland Red Barn Buffet in Tuscola. Or head to Okaw Valley Orchard, a u-pick farm in Sullivan, to take home a bushel of country goodness and an authentic taste of Amish country.