Homeowner's insurance generally provides protection against lawsuits arising from injury on or by a house's porch, and policies may provide porch repair or replacement for damage by weather or accidents. Porches must meet area or local codes to qualify for insurance coverage.
Handrails & Railings
Homeowner insurance regulations governing porch handrail requirements vary by company. Most companies require handrail and railing installation to meet local building and remodeling codes. Some companies require physical inspection of the property by the local insurance agent to guarantee that the porches meet insurance company standards. If the agent determines the lack of handrails or railings compromises safety, the homeowner's insurance policy may omit coverage of the porch until improvements specified on the amendment are made. After improvements are made, the homeowner may apply to have the porch amendment removed. A reinspection is then necessary.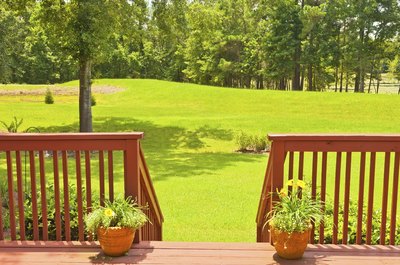 Permits
Porches, as well as any building modifications, must usually be permitted and inspected by the appropriate county, town or city permitting office for final approval to qualify for coverage on a homeowner's policy. Some companies require that homeowners with older porches added without permits obtain a new permit before the home will be insured.
Maintenance
Maintenance must be done to keep porches safe. Weather conditions may impact the porch's stability, creating loose anchors to the house, damaging flooring planks, rotting wood supports, and undermining the overall safety. Exposure to moisture damages concrete and brick foundations. Failure to properly maintain porches may result in insurance cancellation and refusal to cover injuries related to porch failure. Many building departments and insurance companies recommend consulting a licensed engineer or architect to assist in preparing a plan for repair or restoration.
Weight Requirements
Building codes require porches to withstand a set number of pounds per square inch; this figure includes the weight of the porch materials. Insects and pests, including termites, damage wooden porches and supports connecting to the house structure. Damage may reduce the porch's ability to withstand weight and cause porch failure. Homeowner insurance covers porches maintained to withstand weight-limit codes.
Weather & Porch Coverage
If your homeowner's insurance policy is vague or confusing about porch coverage, you should contact your agent or carrier. Porch damage or collapse due to ice and snow is generally included in porch coverage. In areas with frequent damage to porches, such as homes on the Florida coasts, this coverage may be excluded or policy premiums increased significantly to cover potential damages.