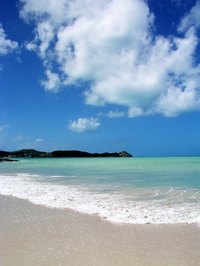 The Caribbean is southeast of the United States and located in the Caribbean Sea. These islands include parts of southeastern Mexico, Jamaica, St. Lucia, Haiti, Bahamas, St. Barts and more. With some of the world's best beaches, these islands are great for outdoor sports, horseback riding, boating, fishing, or just relaxing. Many all-inclusive resorts come with two-bedroom suites that are waiting for your visit.
The Windjammer Landing Resort
Located on St. Lucia, The Windjammer Landing Resort has two-bedroom accommodations for you and your family. Five restaurants allow for plenty of choice, and many bars and a spa are also included. The all-inclusive rate includes use of nonmotorized water sport equipment such as kayaks and snorkels, and tennis courts are available. The resort provides a kids' club and babysitting services. As of 2010, rates start at $449 a night for two bedrooms.
Windjammer Landing Resort Labrelotte Bay, P.O. Box 1504 Castries, St. Lucia 954-481-8787 windjammer-landing.com
Hacienda Tresrios
Located in Cancun, Hacienda Tresrios is next to a 326-acre nature park. Rates in 2010 for 1,236 square-foot, two-bedroom suites start at $1,175 a night. The rate includes access to the nature preserve, nine restaurants, bars, and all tips and taxes. Known for its eco-friendly standards, this five-star resort has children's activities, kayaking, swimming, fire shows and casino nights.
Hacienda Tresrios Carretera Cancun Tulum Km 54 77500 Playa del Carmen Quintana Roo, Mexico 800-494-9173 haciendatresrios.com
Beaches Sandy Bay
Starting at $647.10 a night for the two-bedroom suite, Beaches Sandy Bay is great for families. Located on a seven-mile stretch of beach on Negril, Jamaica, the suites offer a kitchenette and two bathrooms. Four restaurants reside at the resort, and all-inclusive rates include kayaking, scuba diving, nightly entertainment and a kids' club.
Beaches Sandy Bay Norman Manley Blvd. West Negril, Jamaica 800-232-2437 beaches.com
Sunset Jamaica Grand Ocho Rios
Remodeled in spring 2005, Sunset Jamaica Grand Ocho Rios's two-bedroom rate starts at $952 a night. The resort features a huge water slide, beautiful beaches, water sports and more. Six on-site restaurants offer variety and lots of bars. Kids stay free in the summer.
Sunset Jamaica Grand Ocho Rios P.O. Box 100, Ocho Rios Jamaica, West Indies 876-974-2200 sunsetjamaicagrande.com
Club Med Bahamas
French chain Club Med offers an all-inclusive resort on the Bahamas, Columbus Isle. Starting at $3,500 a week for a two-bedroom suite, it offers kids' clubs for children of all ages, and rates include air travel from the United States. Three restaurants are available here, including a Brazilian restaurant, and Club Med features some of the best scuba diving in the world. The resort was awarded an Earthcheck Certification.
Club Med Bahamas San Salvador Island Nassau, Bahamas 242-331-2000 ClubMed.us/Columbus-Isle