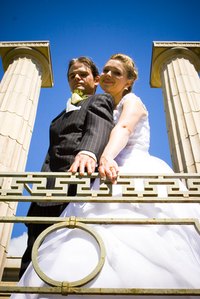 If you don't have a lot of money for a gift on the wedding day there is no cause for panic. There are still gift options that are meaningful and inexpensive. Inexpensive gifts for the bride and groom may seem like they are impossible to find, but there are many options available.
From the Bride
There are many cheap gifts that the bride can give the groom on the wedding day. A little organizer to place on his nightstand so he can have a place for his change and other pocket accessories is a inexpensive and practical gift. Cuff links that have his initials, the date of your wedding, your initials or even his favorite sports team are meaningful and inexpensive. Consider giving him an engraved money clip for all the money the two of you will earn together in the future. Engrave the clip with his name or the date of the wedding. A flask is an ideal gift for wedding day nerves. If money is extremely tight, consider the gift of a long love note detailing how much you love him and how excited you are about spending the rest of your lives together.
From the Groom
Consider the gift of a few flowers placed in the bride's dressing room. This will show your love in an inexpensive manner. You could also purchase an inexpensive jewelry box as a bride's gift. Place a note inside detailing how you will fill the box when the two of you have more money. Purchase a frame to place your wedding vows to each other inside. Hang the frame over your bed or somewhere else in your home. Create a playlist or CD of all of the songs you found meaningful throughout your relationship. A love letter is always a well-received gift. This is especially meaningful if you don't express yourself in writing often.
For the Couple
There are also many cheap gifts to give a bride and groom as a guest. Consider purchasing an item and having it engraved with the new couple's name, such as a sign to hang on their new door or a special plate to display in the kitchen. Most newlyweds do not have many decorations, so purchasing an inexpensive item will be well-received by the couple. You can also purchase inexpensive picture frames for the couple to display their wedding pictures.