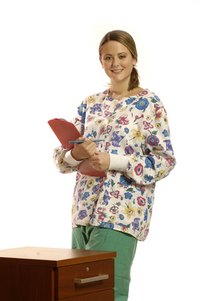 Nurses work hard in hospitals, clinics and other settings to help patients handle health challenges and recover from surgery or other major medical events. Show your thanks and appreciation with special nurse's gifts, even if you are on a tight budget. Major medical events often impose financial hardships, but a little creativity will ensure that your nurse feels appreciated.
Homemade Food Gifts
Homemade food gifts are one popular way to help your nurse feel appreciated on a shoestring budget. Check with her first, in order to find out whether she is allowed to accept homemade food items. Baked goods like cinnamon rolls, cookies, yeast bread, quick bread, muffins and pies are relatively easy and inexpensive to make. A time-saving alternative to making baked goods yourself is to layer the dry ingredients in a jar and attach a recipe stating what needs to be added to the ingredients and how to mix them together. Attractively package your food items in cellophane and tie it all up with a ribbon. Inexpensive gift wrapping supplies are available at most dollar stores.
Homemade Crafts
Homemade crafts are an excellent alternative to homemade baked goods, especially if your nurse is not allowed to accept homemade food items at work. Use items that you already have on hand to create a gift to go right to her heart. If you knit, use yarn to make a scarf, hat or mittens. Paint a picture, decorate a shirt with fabric paints or embroider a pillow. Even if you do not have much craft know-how, use blank paper and cut-out or printed images to create a homemade card for your special nurse.
Discounted Food Gifts
Medical emergencies often impose time limitations in addition to budget limitations. Use services such as Groupon, Living Social and ideeli to score deeply discounted gift certificates for local or online food businesses. Look for a certificate that allows you to purchase $20 of cookies for $10, or $10 worth of chocolates for $5. Purchase the certificate and then redeem it for deeply discounted merchandise at your local retailer. When possible, have them personalize your nurse's gift with a name, special sticker or other thoughtful touch.
Discounted Pampering Gifts
Nurses often work long hours and spend much of the day on their feet. Help your nurse to unwind after a long day with a basket of pampering items. Major retailers like Bath and Body Works and The Body Shop often have online coupon codes, as well as printable coupons that can be redeemed in the store. Combine one of these coupons with sale or clearance merchandise for the best deal.
Alternately, head to your local dollar store for an assortment of bath products for only a buck each. Many dollar stores offer shower gel, bubble bath, lotion, body spray, hand cream, scented candles, CDs and gift baskets, along with everything you need to package your gift.