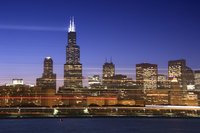 Chicago is known for its deep dish pizza and the famous chef Charlie Trotter. However, there is more to dining in the Chicago area than pizza and fine dining. Discover the fun restaurants in the suburbs of Chicago for down home dining for families, children's birthday parties, groups and a night out on the town.
All Aboard Diner
Choose All Aboard Diner for fun family dining and children's birthday parties. Children's meals are delivered on a model railroad train. Families with peanut allergies can relax and enjoy the fun atmosphere in this peanut-free restaurant. The menu is classic diner food including burgers and milkshakes. Several model train sets give children something to do while waiting for their food. Birthday parties come with a conductor's cap for all children, time in the private party room, and a bandana for the birthday boy or girl.
All Aboard Diner 1510B West 75th St., Grove Shopping Center Downers Grove, IL 630-322-8960 allaboarddiner.com
The Filling Station
Try The Filling Station Antique Eatery for relaxed nightlife dining. The servers are friendly and the menu is focused on fresh food cooked from scratch. The restaurant opened in 1987 and has been a local hit since. Weekly and ongoing special events include Pet Friendly Thursdays.
The Filling Station 300 W. Main St. St. Charles, IL 60174 630-584-4414 filling-station.com
Lynnie Que's BBQ
Choose Lynnie Que's BBQ for all the fun of a backyard barbecue without the fuss. This south suburban Chicago eat in and carry out restaurant focuses on home cooked hickory barbecue. The mascot is a large pink pig. The hearty food and upbeat neighborhood atmosphere at is fun for an evening out with the guys, a hungry sports team or the family. Menu highlights include pulled pork, ribs, chili, lunch box sandwiches and a half chicken. Red beans and rice, mashed potatoes and gravy, and pepper jack mac are among the side dishes.
Lynnie Que's BBQ 19267 Burnham Ave. Lansing, IL 60438 708-474-7837 lynnieques.com
White Fence Farm
White Fence Farm is more than just a fun suburban Chicago restaurant. It is also home to a petting zoo and car museum with kids' rides. The farm started in the 1920s. All the food is fresh and the breading is a secret family recipe. Diners looking for healthy choices appreciate the chicken being baked well done, and then fried just three minutes in cholesterol-free vegetable oil. Chicken is served family style with your friends and family serving themselves from the platter—just like Thanksgiving dinners. Also on the menu are Icelandic fish, shrimp and T-bone steaks. White Fence Farm caters to groups and reserves seating for groups of 12 or more.
White Fence Farm 1376 Joliet Road Romeoville, IL 60446 630-739-1720 whitefencefarm.com/chicago