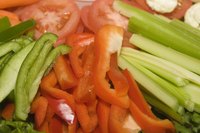 With two-thirds of the American population either overweight or obese, more and more people are looking to diets as a way to lose weight. The problem is, the majority of diets out there are temporary solutions to a long-term problem. If you want to be skinny, you have to adopt permanent healthy lifestyle behaviors and eat the right types of foods on a regular basis.
Vegetables
Vegetables are the least calorie-dense foods you can eat. "Calorie density" simply means you can eat much more of a certain food because it's low in calories. For example, 200 calories of butter is equal to a small pat, while 200 calories of celery is equal to a large handful of celery sticks. Green leafy vegetables, in particular, are very low in calories and very high in nutrients. If you want to be super skinny, eat lots of green leafy vegetables like spinach, kale, Swiss chard and romaine lettuce. Every day eat different types and colors of vegetables, including carrots, red and yellow peppers, broccoli, cauliflower, squash and onions.
Whole Grains
Low carb diets are mainly a thing of the past because like most diets, they offer temporary weight loss that isn't sustainable over time. Instead of erasing carbs from your diet, choose the right types of carbs instead. Eliminate all "white" sources of carbs such as white bread, white rice and pasta. Replace all of these with whole wheat and whole grain sources, such as whole wheat bread, brown rice and whole grain pasta. These types of slow-digesting grains contain more nutrients and healthy fiber.
Lean Protein
Fatty cuts of meat and processed meats like salami and bacon are filled with saturated fat, which increase your risk of developing heart disease, according to the Mayo Clinic. Replace all fatty cuts of meat and processed meats with fish, chicken, turkey and lean cuts of beef like sirloin.
Fats and Oils
Similar to carbs, cutting out fat completely is not a good idea if you want to get skinny, because your body needs fat in order to carry out normal, every-day functions. Eliminate foods that are high in saturated and trans fats, like butter, cream, fatty meats and packaged goods. Replace them with foods high in monounsaturated and polyunsaturated fats, such as olive oil, nuts and fish. Monounsaturated and polyunsaturated fats may actually help lower your risk of heart disease, according to the Mayo Clinic.