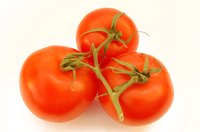 Facial cleansers are an important part of any skin care regimen. They remove makeup and bacteria from your pores, so that skin remains clear and clean. You don't have to rely on pre-made facial cleansers to get one that is right for your skin type. There are home remedies that will clean and nourish skin. Each home remedy may be used a couple of times a day.
Corn Starch and Glycerin
Corn starch and glycerin can be combined to form a natural facial cleaner. Fill a large pot with water, and place it on the stove. Bring the water to a boil. Pour 2 tbs. cornstarch, 2 tbs. glycerin and 1/2 cup water into a pan. Stir the ingredients together until they become smooth. Put the pan onto the pot of water so the ingredients can heat up, but do not let the mixture boil. Once the mixture has cooled, massage it into damp skin, and rinse it off with water.
Milk and Sugar
A facial cleanser made of milk and sugar is perfect for dry skin. Pour 3 tbs. whole milk into a bowl. Add 1 tbs. sugar into the milk, and whisk the ingredients together. Splash water onto your face, and then rub the facial scrub into your skin. Rinse the cleanser off with water.
Baking Soda and Tomato Juice
A mixture of tomato juice and baking soda helps prevent breakouts in acne-prone skin. Pour 2 tbsp. baking soda into a bowl. Squeeze the juice out of a tomato into another bowl. Add 1 tsp. tomato juice to the baking soda. Stir the two ingredients until a paste forms. Add more tomato juice if the mixture is too thick. Once you've achieved the right consistency, massage the paste into moist skin. Rinse off the paste with water.