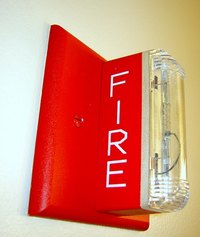 Given the unique attributes of hotels--whose services frequently include not only lodging, but also dining, entertainment and other functions often requiring a large staff to maintain--hotels present certain safety hazards. Hotel guests should be aware of hazards including fire and germs, whereas hotel employees, such as kitchen workers and housekeepers, face certain occupational hazards.
Fire
Fire is major safety hazard for hotel guests and employees. According to the U.S. Fire Administration (USFA), an estimated 3,900 hotel and motel fires are reported every year, annually resulting in an average of 15 deaths and 150 injuries. Most hotel fire deaths occur in rooms that do not have sprinkler systems, according to the Huffington Post. The online news website says that while laws require newer hotels to install sprinkler systems, older hotels and motels are not always subject to these laws. USFA recommends that travelers confirm that a hotel has fire sprinklers and smoke detectors before making lodging reservations. USFA also maintains a search engine of approved hotel lodgings with fire sprinkler systems on its website.
Germs
A 2006 University of Virginia study indicates that germs such as those that cause cold viruses may present a safety hazards in hotels. The study had participants with cold viruses touch certain items in a hotel room, such as phones, door handles, and alarm clocks, and then tested those items for germs the next day after the guests checked out. About one-third of the items were still infected upon checkout. An MSNBC article commented that while some hotel chains have a disinfection policy for guest rooms, the University of Virginia study shows the potential hazards if a hotel's housekeeping policy is less thorough. According to an ABCNews article about hotel "germ magnets," TripAdvisor.com's travel expert Brooke Ferencsik recommends that travelers use an antibacterial wipe to clean high-traffic areas such as remote controls when staying in a hotel room.
Occupational Hazards
In addition to safety hazards that hotel guests may encounter, hotel employees are also exposed to specific occupational hazards. In fact, according to a 2009 study published in the "American Journal of Industrial Medicine," hotel employees "have higher rates of occupational injury and sustain more severe injuries than most other service workers." The study found that among hotel workers, kitchen employees experienced the most acute trauma injuries, while housekeepers reported the most musculoskeletal disorders and highest overall injury rates. A fact sheet provided by the government of Coleraine, U.K. says that along with exposure to fire hazards and bacteria, hotel employees face a number of safety hazards, regardless of hotel location or size. Such hazards include burns and cuts in the hotel kitchen; injuries sustained while cleaning hotel rooms; injuries and deaths resulting from maintenance accidents; electrocution; and violence from patrons in hotel bars. To minimize these hazards, the government of Coleraine recommends hotel staff be well trained in general and in regards to job-specific safety policies and that management ensure proper safety systems are in place.