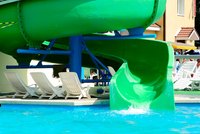 The Pacific Northwest is comprised of Oregon, Washington and Idaho. The region has deserts, mountain meadows, ocean beaches, metropolitan areas and diverse environments. Washington and Idaho have hotels with indoor water parks and other recreational activities on-site for the entire family to enjoy. After a fun day of water adventures, you can walk the short distance to your room and relax.
Great Wolf Lodge
Great Wolf Lodge is a non-smoking resort with an indoor water park. The rooms feature refrigerators, microwaves, a sitting area with a sofa bed and wireless Internet. Some guest rooms have fireplaces, bunk beds, Nintendo games, two bathrooms and a breakfast bar area.
The water park has body slides, tube slides, interactive areas, toddler's area and the Howlin' Tornado, which is a six story funnel, that swirls around all the way to the landing pool below. There is a game room, computer room, fitness center and indoor/outdoor hot tubs. The on-site Loose Moose Cottage is open for breakfast and dinner. Spirit Island Snack Shop and Camp Critter Restaurant are open for lunch and dinner.
Great Wolf Lodge 20500 Old Hwy 99 S.W. Grand Mound, WA 98531 360-273-7718 greatwolf.com/grandmound
Silver Rapids Water Park at Silver Mountain Resort
At Silver Rapids Water Park at Silver Mountain Resort, it is always summer with temperatures in the water park set at 84 degrees Fahrenheit. The Morning Star Lodge has suites, lofts, studios and two-bedroom suites.
The water park has wave pools, cabanas, a lazy river, spray deck, warm springs and tube and body water slides. Inside the water park is The Lunch Bucket, Trestles, a full-service bar, which overlooks the water park, and five restaurants--Mountain Haus Grill, Mogul's Lounge and Alpenrose, Wildcat Pizza, Mountain Café and Noah's Canteen. Outdoor activities include skiing, snowboarding, golf, tennis and scenic gondola rides.
Silver Rapids Water Park at Silver Mountain Resort 610 Bunker Ave. Kellogg, ID 83837 800-204-6428 silvermt.com
Holiday Inn Express and Raptor Reef Indoor Waterpark
Features of the Holiday Inn Express include non-smoking rooms, business center, fitness center, room service, family rooms, continental breakfast, microwaves and refrigerators, free local calls, high-speed Internet and pets accepted.
Triple Plat Family Fun Center and Raptor Reef Waterpark are attached to the Holiday Inn Express. Hotel packages that include wristbands for the indoor water park are available. The water park has slides, wave pool, children's aqua play area and hot tubs. You must bring your own towels or rent a towel for $2 each as of 2010. Rusty's Restaurant is next door to the water park and hotel.
Holiday Inn Express and Raptor Reef Indoor Waterpark 151 West Orchard
Hayden, ID 83835 800-720-4207 3play.com