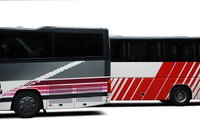 Fort Wayne, Indiana, is about 163 miles to the southwest of Chicago, Illinois. To drive from Chicago to Fort Wayne, you travel along Lake Michigan's southern shore into Indiana, and then take U.S. Route 30W east across Indiana to Fort Wayne. Greyhound Buses runs two services between Chicago and Fort Wayne each day; the overnight route is direct, but the day route detours through Ohio.
Day Journey
Greyhound bus 1620 runs daily between Chicago and Fort Wayne, leaving Chicago at 5:45 a.m. and arriving in Fort Wayne at 3:05 p.m. the same day. The route goes from Chicago through Indiana and dips into Ohio before arriving in Fort Wayne. There is a bus transfer in Toledo, Ohio, where you arrive at 12:20 p.m. and depart at 1:05 p.m. The total journey time is eight hours and 20 minutes.
Overnight Journey
Greyhound also offers a direct overnight bus trip between Chicago and Fort Wayne, which at just under four hours' long is much quicker than the day route. The bus leaves Chicago at 11:20 p.m. and arrives in Fort Wayne the following morning at 4:15 a.m. The route is operated for Greyhound by the LakeFront Lines bus company.
Tickets
In September 2010, an adult ticket for the overnight journey cost between $35.64 and $47.50 if booked online. The higher price is for a refundable ticket; the lower price is nonrefundable. For the shorter overnight trip ticket, prices range from $39 to $45. Tickets cost slightly more if booked in person at a Greyhound office. Discounts are offered to members of the U.S. military, student holders of Greyhound's Advantage Discount Card, and veterans with an Advantage Discount Card. The military discount is 10 percent or a flat round-trip ticket price of $209 on any route.