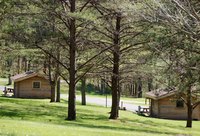 Indiana has many cabin rentals throughout the state. Rent a larger cabin and combine families and friends to split the rental fee for a cabin getaway. Choose a cabin that has a variety of amenities or complimentary services to save on the vacation. Rent a cabin for a weekly rate and the per night expense is cheaper. At the time of booking ask for AAA, military, or senior discounts.
Back To Nature Cabins
Back To Nature Cabins offer families or couples a place to get away and experience the great outdoors. Back To Nature Cabins has four cabin rentals to choose from The Back to Nature, Snuggled Inn, Woodland Retreat and The Lake House. All cabins can accommodate six to 12 guests and are luxuriously furnished with a Jacuzzi, gas fireplaces, full kitchens, washer and dryer, barbecue grills, hot tubs, wraparound porches and complimentary linens. An average night's stay is $195 per night. Back To Nature Cabins offer online specials to offset the cost by advertising 50 percent off a night's stay, a week free when two weeks are booked, and every seventh night is free. These specials offset the cost of the cabin and no extra charges are added for the amenities.
Back to Nature Cabins 1275 North Sewell Road Bloomington, IN 47408 812-335-1091 backtonaturecabins.com
The Abe Martin Lodge
The Abe Martin Lodge is located in the rolling mountains of a 16,000 acre preserve in Indiana's largest state park. Fifty-four rooms are available in the main lodge along with 56 separate rustic cabins. Choosing a room in the main lodge is less expensive than renting a free standing cabin. The main lodge still maintains a log cabin feel with rustic decorations and deep colored wood accents everywhere. Resort amenities included 12,000 square foot aquatic center with a water slide and whirlpool, seven trails for hiking, camping, picnic spots, tennis, and fishing. With amenities like these you won't need to spend extra on entertainment. The rustic freestanding cabins are $72 to $82 dollars per night depending on the time of year.
The Abe Martin Lodge P.O. Box 547 Nashville, IN 47448 877-563-4371 browncountystatepark.com
HeartStone Cabin
The HeartStone cabin, is located just four miles from Nashville in Brown County. This log home is overlooks the Tecumseh Trail and sleeps up to eight adults comfortably. Combine family vacation for an economical split cabin price. The HeartStone features a three bedrooms, three bathrooms, three fireplaces, hot tub, TVs, charcoal grill, fully functioning kitchen, separate living and dining areas, spacious outdoor deck, and game room with a pool table, ping pong table and surround sound system. The HeartStone provides complimentary bed linens, towels, cooking utensils and appliances. The HeartStone cabin is $165 per night and has an online booking special of two nights free.
Moon Stone Vacation Rentals HeartStone Cabin Nashville, IN 47448 812-988-6554 moondancevacationhomes.com