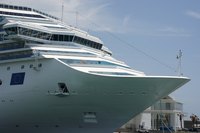 New legislation as of June 1, 2009 requires all persons intending on entering the United States to present a valid passport at any land, air or sea border crossing. This law applies to American citizens traveling abroad and returning back to the country, as well as foreign citizens. Therefore, a passport is required for a Mexican cruise unless individuals do not wish to return to America at the culmination of the trip.
Border Zone
As of March 1, 2010, all American citizens, adults and children, wishing to enter the interior of Mexico must present a valid passport. The interior of Mexico is also known as the "border zone." The border zone area is defined as any area 12 to 18 miles past the Mexican border crossing. (See Entry/Exit Requirements at http://travel.state.gov/travel/cis_pa_tw/cis/cis_970.html#entry_requirements)
Passport
The new legislation regarding entry into the United States of America was established in June 2009. The legislation requires all individuals to produce proof of citizenship in the form of a passport or equally acceptable document. However, children under the age of 16 are usually exempt from this rule. The U.S. Department of State issues passports at a cost of $105 for minors and $135 for adults as of September 2010.
Other Acceptable Documents
If you are not entering the border zone in Mexico during your cruise you do not need a passport except for re-entry into America. However, similar documents are also accepted in place of passports. One such document is the passport card. The passport card contains similar information as the regular passport but is a wallet-size document. It can only be used to re-enter the USA at land or sea ports from Canada, Mexico, Bermuda and countries of the Caribbean. (See third paragraph at http://www.cruisespecialists.com/blogs/index.php/2009/06/new-passport-requirements-for-cruise-travel/)The Nexus pass and Fastpass are also acceptable entry documents for US citizens.