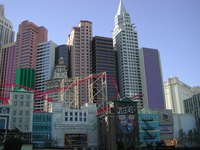 Traveling to Las Vegas with young teens can sometimes be a challenge. They are old enough to sense the excitement of Sin City, but too young to partake in most of its better-known activities and attractions. Many teenagers bore easily as well, so if they are not properly entertained, they may begin to affect your enjoyment of the vacation. Fortunately, there are several attractions in Las Vegas that are ideal for young teens. Many of them are fun for adults as well, so you might not mind tagging along.
Thrill Rides
In addition to the thrills that may be had on the casino floor, Las Vegas is home to many thrill rides that are often favorites of young teens. New York-New York has a roller coaster that travels through the hotel's replica of the Big Apple skyline and overlooks the Strip. Circus Circus houses an entire theme park on site called "Adventuredome," which has several rides, such as the Canyon Blaster roller coaster and Rim Runner water ride, that appeal to young teens. For true daredevil teens, the Stratosphere Hotel has a tower that features several thrill rides that are over 100 stories above the ground. Shooting riders 160 feet in the air before sending them on a free fall that generates 4 Gs of force, the Big Shot may be the most intense of the Stratosphere's rides and should impress most young teens.
Shopping
For teens who enjoy shopping, there is no shortage of retail venues in Las Vegas. The Miracle Mile Shops at Planet Hollywood, the Forum Shops at Caesars Palace and the Fashion Show Mall are all located on the Strip, and feature a wide range of stores and boutiques that may appeal to young teens. If you are looking to keep your teen on a tighter budget, bargains can often be found at the Las Vegas Outlet Center, which is located on Las Vegas Boulevard south of the main Strip. Town Square is another fun shopping destination for teens. While they may not be impressed by the striking architecture, they are sure to enjoy the wide range of stores and restaurants and the 18-screen movie theater.
Museums
While young teens may initially groan at the idea of visiting a museum on vacation, there are actually several exhibits in Las Vegas that may appeal to their interests. Bodies the Exhibition at the Luxor features real-life cadavers, human organs and skeletons on display, which may appeal to science-minded teens or those who are fans of horror movies. Madame Tussaud's at the Venetian is a wax museum with replicas of many famous movie stars, singers and other celebrities. Teens may get a kick out of posing for pictures with their favorite television or sports stars. While not exactly a museum, the Shark Reef at Mandalay Bay is another exhibit that young teens may enjoy. There is even a behind-the-scenes tour available so teens can see how the sharks are cared for and what precautions must be taken when swimming with man-eating sharks.
Arcades
For teens who are avid gamers, there are many impressive arcades in Las Vegas. New York-New York's Coney Island Emporium Arcade features video games, a flight simulator and a gypsy fortune teller. At the Bellagio's arcade, teens can enjoy an air hockey game, ATV simulator and many other video games. The MGM-Grand, Bally's, Imperial Palace, Monte Carlo and Treasure Island all offer video arcades as well.