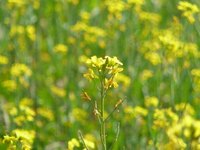 Three varieties of mustard plants yield seeds for making ground or dry mustard: the black mustard plant, brown mustard plant and white mustard plant. White seeds, commonly called yellow mustard seeds, typically provide the basis for most powdered mustards. However, some specialty stores carry dry mustard made from the more exotic black and brown seeds which deliver a more pungent condiment. Manufacturers routinely advertise ground mustard under the name "dry mustard."
Preparation
No difference exists between ground and dry varieties. Dry mustard results from the grinding of mustard seeds, according to an article published on the Lock Haven University Web site. The act of grinding produces relatively no moisture or wetness from mustard seeds; it naturally delivers a dry, powdered form of the spice. According to Purdue University's Horticulture Department, this stems from the common practice of growers only storing and processing mustard seeds after dehydrating the seeds to a moisture level of less than 10 percent.
Vinegar or water must be added to ground mustard seed to create the wet mustard. The granular and powdery consistency of ground mustard exactly parallels the substance which some manufacturers market as dry mustard. Labeling creates the only difference.
Medicinal Benefits
Dry mustard has both culinary and medicinal uses. In alternative medicine, ground mustard serves as an appetite stimulant. Alternative health practitioners advocate that swallowing a tablespoon of ground mustard to expel stomach acid and trigger hunger pains.
Dry mustard has long been used to cure respiratory problems such as bronchitis or pneumonia by placing the powder in a poultice and applying to the chest; historically, users called such poultices "mustard plasters." Mixed into a paste, ground mustard creates a skin salve that can boost circulation to treated areas. Using excessive dry mustard on the skin, however, can burn the skin.
Culinary Uses
In cooking, add dry mustard to homemade oil and vinegar salad dressings or gravies to thicken them. Typically, dry mustard alone or mixed with other spices can serve as a rub for meats such as chicken or fish. Often, sausage makers mix powdered mustard with ground pork before stuffing the meat into casings to create tangy sausages. As a preservative aid, dry mustard helps with vegetable pickling.