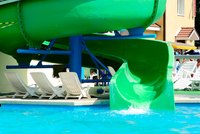 Winter doesn't mean that a family vacation in Vermont can't include some summer-like fun. While many Vermont hotels and resorts have indoor swimming pools, these indoor water parks offer a bit more entertainment. The Swimming Hole in Stowe, The Splash Park in White River Junction and the up and coming OpenAire enclosure at Jay Peak are all great places to play year-round.
The Swimming Hole
The Swimming Hole in Stowe, Vermont is a non-profit community pool that is open to non-members. The Swimming Hole offers water slides, water toys and water polo, in addition to an Olympic-sized swimming pool with a diving board. A heated kiddie pool features a waterslide and water-fountain-style toys. Swimming lessons and adult workout equipment are also offered. This indoor water park is open seven days a week.
The Swimming Hole 75 Weeks Hill Road Stowe, Vermont 05672 802-253-9229 theswimmingholestowe.com
The Splash Park
The Splash Park in White River Junction contains a river ride, a kiddie water play area, circular slide and a 110-foot cork-screw ride leading back into the water. Plenty of waterfalls and fountains make The Splash Park a great indoor water park. A warm-water instructional pool and competition lane pool are offered. Childcare is available on a first-come, first-served basis at the Kid Zone. A large selection of non-water related workout equipment is offered for adults. The Splash Park is open seven days a week.
The Splash Park at the Upper Valley Aquatic Center 100 Arboretum Lane White River Junction, VT 05001
802-296-2850 uvac-swim.org

Jay Peak
Jay Peak opens its indoor water park in the fall of 2011. The resort contracted OpenAire Inc. to create the tallest water park enclosure in North America. The retractable roof towers over a 55-foot slide tower, diving rocks, a river channel and a wave pool. There's rock-climbing, a wave river and a variety of slides. You can watch your youngest children in the wading pool from centrally-located cabanas.
Jay Peak 4850 VT Route 242 Jay, Vermont 05859 802-988 2611 jaypeakresort.com