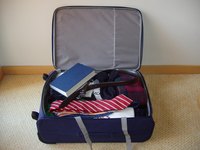 Packing for international travel can be a challenge. Each airline has its own regulations for baggage allowance, and airport security can be difficult to negotiate. There is also the uncertainty of going to a new place and dealing with a new and possibly unfamiliar environment. The best way to pack for an international trip is to be aware of airport and airline restrictions for carry-on and check-in luggage, and to be adequately prepared for the unexpected.
Place Valuables in Carry-on Luggage
Carry-on luggage can be used to pack a day's change of clothes as well as essentials and valuables that cannot easily be replaced at the destination. It's also a good place to put documents, non-liquid medications, smaller electronics and heavy items, such as books, that do not fit into your checked baggage because of weight restrictions. For ease of access, place your essential travel documents — passport, ticket or ticket reference number and customs forms — in an easy-to-reach part of your handbag or carry-on.
Weigh Luggage Carefully Before Getting to Airport
Baggage policies for check-in luggage vary by airline, so check with their website before you travel for specifics on maximum weight allowed, number of free baggage allowed per passenger, excess baggage fees and items that need to be handled specially. To avoid unnecessary expenses at the airport, weigh your bags beforehand and distribute weight evenly among them. Also, consider placing some of your heavier items, like books or shoes, in smaller bags (or in your hand luggage).
Pack for Your Destination
Although easier said than done, packing for your destination is essential. Do some research about the place you will be going to before you get there. Find out what kind of weather you will encounter, the socially acceptable modes of dressing, and the challenges you might have in getting access to some items that you may need during your stay. Although it may be tempting to carry a lot with you, travel light since you will have to lug all your baggage around — and keep it secure — once you've landed overseas.
Secure Your Belongings
Make sure your address and telephone number are on the luggage tag as well as inside the luggage to increase your chances of recovering it if it becomes misplaced. Also, to prevent mix-ups at the baggage claim area, make sure you can easily identify your bags by tying a small ribbon around the handles. To secure your belongings inside the luggage and prevent accidental spills on your clothing, secure liquid containers by placing them in plastic bags or by putting plastic over the cap before screwing on the cap. Remember, aerosol cans should not be carried on board as the decompressed nature of the cabin may cause them to explode.