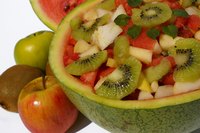 Summer is a time for relaxing at home and going out with friends as a teenage girl. This also means that unhealthy food choices are often readily available, making a healthy diet difficult. According to Carol Anne Rinzler, author of "Nutrition for Dummies," there are several diet tips that make summertime easier to handle for the teen girl.
BMR
It is important to count calories and eat within your daily caloric intake requirements, states Linda Ojeda, author of "Safe Dieting for Teens." Your daily caloric intake requirements are the amount of calories that your body needs each day to sustain proper function. Your daily caloric intake requirements can be determined by calculating your BMR, or Basal Metabolic Rate. To calculate your BMR, use the following equation:
655 + (4.35 x weight in pounds) + (4.7 x height in inches) - (4.7 x age in years) = Woman's BMR
After calculating your BMR, use the resulting number as a guide for how many calories you should consume every day on average. Look for caloric count with the nutritional information found on the labels of food packaging.
Drink More Water
Drink more water during the summertime. Water consumption is important during the hot summer months. A teenage girl should consume ten to twelve eight-ounce glasses of water daily, states Jane Kirby, author of "Dieting for Dummies." If you do not drink enough water, your body will assume that water is scarce and it will retain the hydration as water weight. If you keep your body properly hydrated, it will let go of water weight. Sweet drinks, such as soda and lemonade, are high in calories and cause dehydration. Limit yourself to one sweet drink a day.
Healthy Snacks
Replace common summer snacks such as ice cream, snow cones, Popsicles and milkshakes with alternative sweet treats. These snacks are all high in fat and calories and should be limited. Fruit contains high amounts of natural sugars and is a common substitute for summer snacks, according to Ojeda. Rather than having an ice cream cone, eat your favorite fruits lightly sprinkled in sugar to satisfy your sweet cravings. By replacing fatty foods with healthy snacks, you cut calories and improve your overall health.
Be Portion-Conscious
Be portion-conscious during the summer as it is hard to avoid unhealthy food all of the time. Be it fast food, a summer BBQ or a nice dinner out, unhealthy food abounds during the summer. No matter what is available, pick one main dish and allow yourself just one serving, do not go back for a second helping. If you are eating out, divide your meal in half and ask for a to-go box so that you do not over eat. Eat snack foods, such as chips, in moderation as well. Never snack from the bag, instead put a small handful onto a plate and, once again, do not go back for seconds.