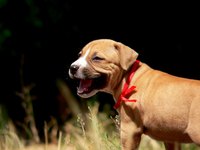 Puppies contract illnesses that commonly affect humans, including pneumonia. According to The Dog Health Guide online, pneumonia most commonly affects puppies under 1 year old. Pets experiencing a bout of pneumonia -- also known as deep lung tissue inflammation and infection -- exhibit physical symptoms recognizable by the pet owner and easily confirmed by a veterinarian.
Coughing
The first stages of pneumonia start with a lingering cough. Although the puppy may have kennel cough, distemper or another common pet illness, coughing ranks as the number one symptom of pneumonia in puppies, according to Mar Vista Animal Medical Center in Los Angeles. If the coughing accompanies difficulty breathing, protruding lips and mucous secretions, the puppy may have pneumonia.
Fever
Some puppies suffering from pneumonia may exhibit a fever. According to The Dog Health Guide online, only 50 percent of dogs with pneumonia have a fever. This symptom of illness varies depending on the root cause of the pneumonia. Puppies with bacterial-based pneumonia often have a fever.
Activity Levels
A puppy's activity levels can vary simply because of its age. Even when battling a case of pneumonia, puppies may still exhibit active behavior, according to Mar Vista Animal Medical Center. Other pets may appear listless and exhausted and have a diminished appetite.
X-Ray Results
After performing an external physical examination, a veterinarian may conduct a chest radiograph of the puppy. Common signs of pneumonia, such as pus, fluid-filled lungs and air bronchograms will show up on the X-ray, confirming the diagnosis of pneumonia, according to the Mar Vista Animal Medical Center. The doctor may also request a bronchoscope to look at the condition of the puppy's bronchi in the lungs. This invasive procedure requires anesthetization.
Physical Signs
Puppies manually fed milk replacers, de-worming medications or vitamins with feeding tubes, or pets exhibiting a cleft palate may contract aspirate pneumonia, according to veterinarian Race Foster on the Pet Education website. Symptoms of this form of pneumonia include milk dribbling from the puppies nose during feedings or difficulties breathing.