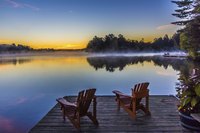 Upstate New York, a region that includes the snowy Tug Hill Plateau, the vast Adirondack Park and Albany, the capitol city, holds a rich history as the playground of the wealthy. Famous visitors roughed it in huge estates they coyly called camps. In the background, woodsmen and farmers led more pedestrian lives. The area is home to unique hotels with striking architecture and connections to the past.
Don't Tell Anybody
Unique in its exclusivity, The Point doesn't give out its address or directions to the resort unless you have a reservation. Built as one of the Adirondack's "great camps" by a member of the Rockefeller family, The Point has only 11 guest rooms, each in one of the camp's original log cabins. The most popular of the rooms is atop the boathouse at water's edge. It features a canopy bed, a vaulted ceiling and muted nautical decor. Guests dine together in the Great Hall. You can arrange an in-room massage or take advantage of the landscape for skiing, boating or hiking.
Step Back in Time
The Hotel Utica, opened in 1912 and completely refurbished in the late 1990s, hosted numerous celebrities in its heyday. Baseball great Mickey Mantle signed autographs there, Judy Garland sang, Eleanor Roosevelt visited the kitchen and husband President Franklin D. Roosevelt relaxed at the Gentlemen's Cafe. Accommodations are in standard rooms and suites, furnished to recall the early days at the hotel. Some have whirlpool tubs. The hotel's restaurant and pub serve American fare with an Italian twist. Four golf courses, the National Distance Running Hall of Fame and the city's municipal auditorium are nearby.
Lake George Luxury
The Sagamore, an enormous resort on an island in Lake George, opened in 1883. Placed on the National Register of Historic Places after a 1983 restoration, the property has accommodations in the historic hotel, lodges, condominiums and at the Hermitage, a 19th-century carriage house with bi-level suites. The spa and salon offer massage, body treatments and personalized fitness programs. Eight dining venues focus on differing cuisines, from Italian to New York steakhouse to pub fare. Guests can sail Lake George aboard a replica touring boat, swim in an indoor or outdoor pool or arrange a round of golf.
A Victorian Masterpiece
The Batcheller Mansion in Saratoga Springs is unique in its architecture, a high Victorian combination of Italian, Gothic, Egyptian and French renaissance styles. Handcarved fireplaces, elegant woodwork and original furnishings combine to take guests back to the late 19th century. Dormers, turrets and balconies decorate the exterior. The entire first floor of the hotel is a common area that includes a library, dining and living rooms. The upper two floors are divided into one-of-a-kind guest rooms. President Ulysses S. Grant stayed in a room on the top level now outfitted with a pool table and a bathroom with a two-person whirlpool tub.