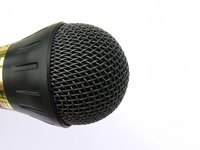 We communicate with people in various ways, and whether at work or at home, verbal communication is an important part of our interactions with others. If you are interested in becoming a better communicator, verbal communication exercises can help you understand both speaking and listening and improve your verbal interaction skills.
Record Yourself
If you are nervous about verbal communication, use a digital voice recorder or the voice recorder on your cell phone to record yourself speaking on a given topic. Pick a topic, then speak as if you were explaining the topic to friends or coworkers. Record yourself, then replay the recording, noting any grammar or factual errors. Then try again, improving on your speaking skills.
Practice Listening
For this activity, have a friend talk for a couple of minutes about any topic. Then try to repeat the person's points back to them, saying things such as, "I think you said …" and "It sounds like you're saying …" You might also ask the person for clarification on any points you did not fully understand. Then switch roles and have your partner repeat your speaking points to you. Listening to another person's perceptions of what you say will help you hone your own speaking skills.
Tell a Story Together
For a team-building exercise that also will help employees become better communicators, have them sit in a circle and take turns telling each subsequent line of a story. For example, the first person would say, "Once upon a time," and the next person would continue the story from there. This activity helps employees learn to think quickly about what they want to say.
Yes, And ...
In this exercise, two people are given a fictional relationship to each other, a fictional environment to interact in and a topic to discuss. The first person makes a statement, to which the second person must respond beginning with, "Yes, and." This exercise helps both participants learn about moving a conversation forward without creating barriers by saying, "No." Additional communication skills can be taught by giving each participant a rank, such as boss and employee, to teach about status, or by assigning an emotion to each participant to explore how emotions affect communication.