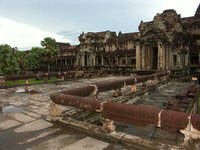 Travelers on a budget can still visit exotic locales overseas by jetting off to one of the world's least expensive countries. Dozens of countries have bargain marketplaces, cheap food and lodging that cost as little as a small meal does in the U.S. These newly discovered vacation spots include Thailand, Nepal, Pakistan, Turkey and Morocco, where new attention means prices are gradually increasing. Other countries remain inexpensive, making them smart choices for travelers looking for cheap spots to see the sights and relax.
Paraguay
Paraguay may be the world's least expensive country. According to Mercer's survey of the world's most and least expensive cities, Asuncion, Paraguay, is the cheapest city in the world and has been for years. An MSN article originally published on Lonely Planet recommends taking a road trip across the country, with trips to Jesuit ruins in the east. In Asuncion, Museo del Barro exhibits indigenous artwork, while the Botanical Garden and Zoo is a beautiful place for visitors to learn about the region's wildlife. Local markets offer bargain deals for travelers who want to take home souvenirs.
Cambodia
Cambodia is known for its lush scenic beauty and affordable cost of living and traveling. Travel writer Tim Leffel at Transitions Abroad recommends it for budget travelers, noting all of Southeast Asia is known for being inexpensive. Tourists can find a range of activities and photo opportunities that cost little to nothing, such as taking a walk past rice paddies in the countryside or the temples of Angkor. Frommer's recommends visiting the Mekong River to spot dolphins. The markets Psar Toul Tom Poung and Psar Chas sell bargain souvenirs to tourists who aren't afraid to haggle.
Honduras
Lonely Planet recommends Honduras as a less expensive alternative to the nearby Caribbean islands for budget travelers. It has cheap places to stay and bargain meals that will leave travelers with plenty of money for transportation, sightseeing, snorkeling and kayaking. While it has gorgeous beaches for wading and sunbathing, it is particularly famous for diving opportunities, according to Frommer's. Travelers may also enjoy glass-bottom boat rides or coffee plantation hikes.
Malaysia
Malaysia is an exotic country with wild jungles and temples resting side by side with westernized amenities. In an MSN article, Leffel recommends Malaysia as one of Asia's bargain countries. Travelers can rent a bungalow, eat and go sightseeing or snorkeling, all for the price of one or two hardback books in the U.S. It is also a safe and easily navigable country. Malaysia has a number of national parks and beaches where tourists can take a stroll or bicycle ride, such as Kinabalu National Park. Frommer's recommends taking a night canopy walk through the forest in Taman Negara, Malaysia's biggest park. Tourists can also visit one of Melaka's many small museums, such as one devoted to kites, or take a walk down Jalan Tokong to see a mosque, Chinese temple and Hindu temple resting side by side in harmony.