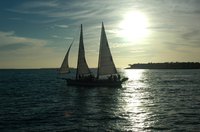 Greenport, New York, is one of the oldest villages on the North Fork of Long Island. It is an historic whaling village that is one of the most popular towns to visit on Long Island. The town offers many restaurants, shops, beaches and marinas for tourists to enjoy. One popular activity for tourists visiting Greenport is to take a windjammer cruise on one of the schooners that offer cruises daily during summer months.
Windjammer Cruises
Windjammer cruises are a popular summer activity for vacationers. On a windjammer cruise, sailing vessels take passengers on tours along the coast. Passengers often have the opportunity to participate in the sailing of the ship, or they may opt to just sit back and enjoy the adventure. For those traveling to a coastal town, a windjammer cruise is a true adventure that adds to a memorable vacation.
Malabar
Malabar leaves from Mitchell Park in Greenport. The cruises are one to two hours in length on a 105-foot two-masted sailing schooner. The Malabar can take up to 49 passengers on day cruises or 21 passengers on overnight sails. There are restroom facilities on board. Lunches are "brown bag." The schooner takes two to three trips daily offering adult and children's rates. Recommended ages for the sail are 5 years through adult. There is no handicap access on the Malabar.
Malabar Windjammer Cruises Mitchell Park Greenport, NY 11944 631-477-3698 downeastwindjammer.com
Mary E
The Mary E is an authentic 75-foot 1906 schooner sailing daily from Preston's Dock in Greenport during the summer months. The schooner cruises the waters of Greenport, Orient and Peconic Bay. Two two-and-a-half-hour day cruises are available, and a sunset cruise sets sail in the evening. It is also possible to book a moonlight cruise. The Mary E sails around the tip of Shelter Island in Long Island Sound where you can view the mansions of Shelter Island, the Long Beach Bar Lighthouse and Plum and Gardiner's Islands in the distance. Passengers can help hoist the sails, steer the boat or just relax and enjoy the trip. The Mary E offers discounted rates for children and Seniors.
Mary E Preston's Dock Greenport, NY 11944 631-477-8966 themarye.netfirms.com