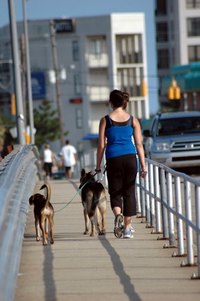 Raising capital for a new business can be a challenging, but necessary part of starting a business. Capital is raised in many ways including personal savings, loans from the bank, credit cards or money from investors. Starting a business that does not require a lot of capital makes it easier to raise the money and to repay loans. In some cases, the amount of capital needed is low enough that a loan is not required.
Dog Walking and Pet Sitting
A dog walking or pet sitting business has few start-up costs. While most pet owners have a leash for their dogs, you should purchase spare leashes for a emergencies. A pooper scooper, and litter box scooper will also be helpful in case the owner does not have one. Requirements for liability insurance vary by state. According to the Association of Professional United Pet Sitters, as of 2009, insurance costs start at $174 per year and include liability coverage for loss of pets, veterinary bills and medical expenses should a human be injured. Capital is also needed to market the new business. Marketing ideas include fliers, business cards, and ads in the local paper and online.
Crafts
Creating and selling crafts is an inexpensive business. The capital depends on the craft you are making and includes the materials and tools you need to create the final product. Other start-up costs include marketing your product. This can be done with a website, fliers, ads online or in your local paper, or setting up a booth at a trade show of flea market. Some craft ideas include beaded jewelry, ornaments, scrapbooks and picture frames.
Affiliate Marketing
Affiliate marketing is a low-cost business to start. Signing up to re-sell products is often completely free and in many cases, a website will be provided for you. For example, ClickBank is a site that lists affiliate opportunities in many categories. Signing up as an affiliate is free and ClickBank then mails you commission checks. With ClickBank, you earn between one and 75 percent of the sale price. Your expenses would include a domain name and any marketing you choose to do. Some marketing is free, such as posting ads on Craigslist or writing articles and submitting them to article directories. Paid forms of advertising include pay-per-click ads on Google or Yahoo or posting banner ads.
Freelance Writing
Few expenses are associated with freelance writing. Sell your articles and other pieces of writing to magazines, newspapers and other publications. Your initial expenses include a computer or laptop and a printer if you do not already have one. A subscription to "Writer's Market," which provides a comprehensive list of publications and agents is a valuable tool for writers. As of 2010, an online subscription to Writer's Market starts at $5.99 per month. Other expenses include office supplies, printer paper, envelopes and postage to send out queries and samples of your work.