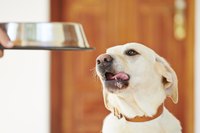 The phrase "heart failure" can be a bit heart-stopping, with its connotation of a frightening heart event. Despite the word "failure," a dog with congestive heart failure still has a working heart, however, it doesn't function as it should. Treating congestive heart failure depends on the cause. You should work with your vet to learn what you can do to help with his treatment plan.
An Overview of CHF
Your dog may cough after a game of fetch or before he settles down to take a nap, or perhaps he wears out quicker and has a tough time breathing or exercising. The symptoms of congestive heart failure make sense because your dog's body isn't getting the blood it needs to go about its daily business. As blood builds up in your dog's organs -- most typically his lungs -- his other organs swell with fluid and/or function irregularly. There are a host of reasons for heart failure, including old age, infection and illness, while other dogs are genetically predisposed to congestive heart failure.
No Salty Dogs
Conventional treatment for congestive heart failure is generally necessary. It may include surgery to repair a bad valve, drugs or procedures to help relieve fluid accumulation in the lungs or medication to correct an abnormal heartbeat. Diet can play an important role in the treatment of congestive heart failure. Whether you cook for your dog or use commercial pet food, talk to your vet about whether a low-sodium diet will help your dog cope with his congestive heart failure. The Merck Manual notes that low-sodium diets usually are reserved for dogs with severe congestive heart failure, while dogs with mild or moderate congestive heart failure should avoid diets high in salt. The Manual warns hormones can be activated prematurely if a dog with heart disease and no symptoms of congestive heart failure has salt restrictions.
Vitamin and Mineral Supplements
The Whole Dog Journal points out that holistic vets usually use conventional treatment combined with supplements to treat congestive heart failure. Vitamin B complex, vitamin E and vitamin C can aid the heart, helping to prevent the production of scar tissue and support the cardiovascular system. Coenzyme Q10 is similar to vitamin E in its effects, strengthening the heart and immune system, while amino acids such as taurine may help improve the heart's muscles. Minerals may be beneficial; for example, magnesium can help stabilize an irregular heartbeat while also working with calcium to strengthen the heart. Since you can have too much of a good thing, Whole Dog Journal recommends using vitamin supplements only with veterinary oversight.
Herbal Supplements
There are a variety of herbs that may prove beneficial to your dog. A holistic vet can guide you through the choices. Hawthorn berry steadies the pulse, improves the heartbeat's force and increases cerebral blood flow. Cayenne pepper improves circulation and acts as a pain reliever, while garlic improves cholesterol and serves as an antioxidant. Other herbs beneficial to the circulatory system include rosemary, bilberry and ginkgo.
Exercise Caution
There's a fine balance involved when it comes to exercise for a dog with congestive heart failure. He needs some activity to maintain basic health and to maintain his proper weight. However, he shouldn't overdo it. If your pup has a lively nature, talk to your vet about what he should or shouldn't do. He may not be able to enjoy a game of Frisbee, but a walk around the block will help keep him moving and give him some necessary exercise. His level of exercise will depend on his specific condition.