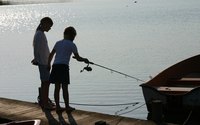 Branson is a popular destination in Missouri, nestled among the Ozark Mountains in the Lake of the Ozarks. Known for its shopping, attractions and shows that range from all types of music to comedy to magic acts, Branson proves entertaining for the entire family. Water sports, fishing, boating and golfing are other popular local activities and the area is home to historical museums. Branson seems to have something for everyone.
Lakeside Resort and General Store
Lakeside Resort and General Store is located on the shore of Table Rock Lake on the west side of Coney Island. Its fully furnished cabins sleep up to 12 people and possibly a few more if really needed. All cabins have full kitchens, bathrooms, Wi-fi, a futon or sofa and covered porches. The larger "homes" include a washer and dryer and at least an extra half bathroom. Some available cabins have a hot tub, jacuzzi tub or whirlpool tub. Lakeside has both a kiddie pool and a regular pool, a new boat dock with a swimming platform, a fish cleaning station, laundry facility and boats for rent. The general store is the "one stop Table Rock tackle shop," selling minnows, jumbo worms, crickets, crawdads and chicken livers. You can also purchase your fishing permit there, as well as groceries and ready-to-eat foods, such as pizza and sandwiches, ice cream, milk shakes and sundaes all made from scratch. Sites for full RV hookups are also available.
Lakeside Resort 153 Coney Drive Branson West, MO 65737 417-338-2442 lakesideresort.net
Crow's Nest Resort & Lodge
Crow's Nest Resort and Lodge lies just moments away from one of Branson's most popular attractions: Silver Dollar City. The resort lies on the northwest end of Indian Point. Individual cottages have one to two bedrooms, and their lodges have two to three bedrooms and an extra bathroom. All units include a full kitchen, barbecue grill, a porch and Wi-fi. There's a pool to take a dip in, as well as the lake. The boat slip and dock are also easily accessible.
Crows Nest Resort and Lodge 1060 Crows Nest Trail Branson, MO 65616 800-947-8287 silverdollarcityresort.com
Artilla Cove Resort
All cabins at Artilla Cove Resort front onto Table Rock Lake. The resort lies on the northeast edge of Indian Point, and all cabins have been recently redecorated. Artilla has been mentioned in "Midwest Living" as "cozy and immaculate" with "tasteful touches inside." Cottages and suites are available with up to three bedrooms, can sleep up to 12 people and come with fully-equipped kitchens, Wi-fi, cable television, heat and AC. Guests can enjoy amenities such as the pool, coin laundry, barbecue, picnic tables and deck chairs. Along the water there's a covered and lighted boat dock, fish cleaning station and boats for rent. You can even get your fishing license right at the resort.
Artilla Cove Resort 1123 Jakes Creek Trail Branson, MO 65616 866-338-2346 artilla.net