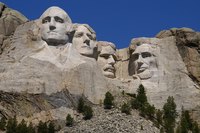 It takes years of work to carve a monument into a mountain, and involves a number of craftspeople. The carving of Mount Rushmore, for instance, involved the efforts of approximately 400 men and women, according to the U. S. Park Service. Mount Rushmore and other U.S. monuments, which are carved from mountains and celebrate confederate generals, presidents and a Native American hero, are the largest monuments carved into mountains in the world.
Mount Rushmore
Begun on October 4, 1927, and completed on October 31, 1941, the carvings of presidential faces in Mount Rushmore in South Dakota are the largest busts in the world. According to the U.S. National Park Service website, 90 percent of the mountain was carved using dynamite. Dynamite blasts removed approximately 450,000 tons of rock from the site during carving. Dangerous as it was, during the 14 years it took to carve the monument, there were no fatalities. The monument consists of the likenesses of four United States presidents: George Washington, the 1st president, who led the colonists in the American Revolutionary War; Thomas Jefferson, the 3rd president, who authored the Declaration of Independence; Theodore Roosevelt, the 26th president, who provided leadership as the nation entered the 20th century; and Abraham Lincoln, the 16th president, who was the leader of the United Sates during the Civil War. Each presidential face is 60 feet tall and rises 500 feet above the surrounding area.
Stone Mountain
Recessed 42 feet into its mountain, the Confederate Memorial Carving at Stone Mountain is considered the largest high relief sculpture in the world, according to Stone Mountain Park website. This monument depicts three confederate heroes of the Civil War: President Jefferson Davis, president of the Confederate States during the Civil War; General Robert E. Lee, best known for his victories in the second Bull Run and the Battle of Chancellorsville; and General Thomas J. "Stonewall" Jackson, known for his stoicism during the Battle of Bull Run. Each of the heroes is depicted on horseback. The carving, which was begun by blasting away portions of the mountain with dynamite in 1923 and completed with final touches in 1972, rises 400 feet above the ground and measures 90 by 190 feet. Stone Mountain is located in Georgia.
Crazy Horse
Formed from the same massive body of granite in South Dakota as Mount Rushmore, Crazy Horse—a memorial to the spirit of Native Americans—will be the world's largest sculpture upon completion. The memorial of Crazy Horse, a Lakota Indian who lived during the mid-19th century, will stand 563 feet high and measure 641 feel long. The monument was begun in 1948; the face of the Indian was completed and dedicated in 1998. Finished, it will depict Crazy Horse seated on his horse. Work on the monument since 1992 has been focused on blocking out the horse's head.