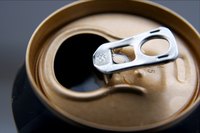 "Crazy" and "alternative" might not be the first words that come to mind when you think of Houston, Texas. However, along with its more conventional tourist sites such as the Galleria shopping center and the Museum of Fine Arts, you can find attractions that could be considered unconventional or wacky. It turns out that the fourth largest city in the United States has its share of crazy things for visitors and residents to enjoy.
Orange Show Monument
The Orange Show Monument began life as a piece of visionary art. Visionary art is the self-taught, self-invented expression of an artist's inner vision. Working alone, postman Jefferson McKissack spent 23 years building a multilevel, multifaceted structure out of building materials and found objects such as wagon wheels and mannequins. Today, the 3,000 square foot property is now open to the public and you can wander through the monument and view McKissack's artistic exhortations to longevity, health and the importance of eating oranges. The Orange Show Monument is open on Saturdays and Sundays from 12 p.m. to 5 p.m. Admission is $1 per person.
Orange Show Monument 2402 Munger Houston TX, 77023 713-926-6368 orangeshow.org
Beer Can House
The Beer Can House is another work of visionary art. In 1968, retired railroad worker John Milkovisch decided to use his excess beer can collection to decorate the exterior of his house. 50,000 cans later, the house and yard bear decor displaying his inventive uses of the cans, such as the pull-tab curtains hanging from the eaves. He also incorporated other found objects such as concrete blocks, colored glass and marbles to further decorate the space. The Beer Can House is open year-round on Saturdays and Sundays from 12 p.m. to 5 p.m. A self-guided tour of the grounds costs $2 per person. A fully-guided tour, including both the interior and exterior of the house costs $5 per person.
Beer Can House 222 Malone Houston TX, 77007 713-926-6368 orangeshow.org
Texas Junk Company
After visiting the Orange Show Monument and the Beer Can House, you may feel a nudge of visionary creativity. If you're on the lookout for found objects or just want to shop for discarded treasure, you may want to visit the Texas Junk Company. This warehouse, located in Houston's Fourth Ward neighborhood is mainly known for its many rows of neatly stacked and sorted used cowboy boots. The sign at front of the door claims there are more than 1,000 pairs to choose from. If western wear isn't your thing, there's plenty of other previously-owned merchandise to browse through including furniture, metal signs, used postcards and old photographs. Texas Junk Company is open on Fridays and Saturdays from 11 a.m. to 6 p.m. They accept only cash and checks.
Texas Junk Company 215 Welch St. Houston TX, 77006 713-524-6257
Variety Fair 5 & 10
If you like shopping for odds and ends but prefer to buy new, you might want to spend some time wandering the aisles of Variety Fair 5 & 10. The store opened in 1948 as a dime store and has been continuously owned by the same family ever since. The website boasts the 2,500 square foot store is "crammed floor to ceiling with merchandise." You can browse through the different departments and pick out toys such as a cap gun, or novelty items such as an inflatable bagel. Your purchases will be rung up on an old-fashioned, mechanical National Cash Register. The store is in Rice Village shopping center. The hours are Monday through Friday, 9 a.m. to 6 p.m. and Saturday, 9 a.m. to 5:30 p.m. The store is closed on Sunday.
Variety Fair 5 & 10 2415 Rice Blvd Houston, TX 77005 713-522-0561 varietyfair.com