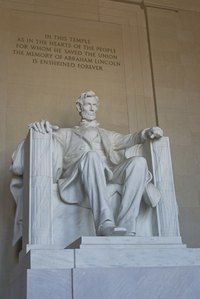 Washington, D.C., is the hub of the nation's history. Along with the political and historical sites, D.C. is also home to the Smithsonian Institute, the National Zoo, and the National Museum of Natural History. Pre-paid tours of the D.C. area often move quickly through the sites, but following one of many self-guided driving tours offers more flexibility and lower cost.
Civil War
Travel back to the 1800s on a historic Civil War trail driving tour. Each tour follows a single campaign of the Civil War, including the 1864 Overland Campaign and the Battle of Front Royal. The Front Royal tour begins on U.S. 340 at Asbury Chapel and includes 10 stops, each marked with a trail marker. The tour follows the Confederate troops under Stonewall Jackson before he joined Robert E. Lee in Richmond after a victory over Union troops. Free trail maps are available for download online, and printed maps are available on request by mail. The Overland tour takes visitors through Fredericksburg and down to Petersburg, making more than 25 stops, including at Zion Church, Bowling Green, and Yellow Tavern.
Presidents
The Washington, D.C., president's tour covers eight monuments and memorials dedicated to the presidents of the United States. All of the stops are free, but most of the monuments require tickets, which are available on-site on a first-come, first-served basis. Three of the stops are located in West Potomac Park: Lincoln Memorial, Thomas Jefferson Memorial, and Franklin D. Roosevelt Monument. These are all open 24 hours a day, with rangers available during the day. The Washington Monument, Ford's Theatre, Lyndon B. Johnson Memorial Grove, Theodore Roosevelt Island, and The White House have varied hours. Tours of The White House are available to groups of 10 or more and must be reserved at least one month in advance. Both the Theodore Roosevelt Island and the Lyndon B. Johnson Memorial Grove are part of the George Washington Memorial Parkway.
Bridges
Shorter half-day tours are also available in Washington, D.C. Frederick County offers a driving tour that covers three historic covered bridges: Roddy Road, Utica Mills, and Loy's Station. These bridges are three of only eight covered bridges still standing in Maryland and are between 40 and 101 feet long. The tour is 33 miles round trip and begins where Route 15 N meets Route 26. Part of the tour parallels the Moncacy River and is bordered on the opposite side by Cunningham Falls State Park. Each of the bridge sites has a recreational area with picnic benches and a plaque telling visitors more about the site.