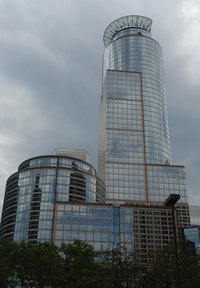 With over 40 nightclubs and an eclectic music scene, Minneapolis night life has something for everyone. Though some clubs designate special nights for those under 21, others open their doors nightly to the 18-and-over crowd.
Bar Fly
Located in the Hennepin Theatre District, Bar Fly draws crowds with progressive house beats, nightly specials and the occasional bikini contest. Housed in the six-story Skyway Theater Building, Bar Fly features DJs on the ground floor and live bands in The Loft. Accessible by elevator, The Loft is on the fourth floor with views of downtown Minneapolis.
Bar Fly is always 18 to enter and 21 to drink. It's open Wednesday through Saturday from 9 p.m. to 2 a.m. The cover charge varies. The dress code is casual, but no hats, sneakers or baggy clothes permitted. Smoking is only allowed on the outdoor patio. Bar Fly also is available for private parties.
Bar Fly 711 Hennepin Ave. Minneapolis, MN 55403 612-333-6100 barflyminneapolis.com
The Gay 90's
Located in downtown Minneapolis, The Gay 90's possesses three dance floors that feature DJs spinning different music genres nightly. Male strippers and drag shows are among the highlights offered by this gay dance club.
The Gay 90's welcomes those 18 and over only on Wednesday, Thursday, Sunday and the third weekend of each month. All other nights are restricted to those 21-and-older. On Wednesday and Thursday, dancing goes until 2 a.m. On weekends, dancing continues until 3 a.m. There is a $10 cover for those under 21.
The Gay 90's 408 Hennepin Ave. Minneapolis, MN 55401 612-333-7755 gay90s.com
Spin Nightclub
Located in the Warehouse District, Spin Nightclub is open to the 18-and-over crowd on Thursday, Saturday and Sunday. On Friday, only those 21 and older are permitted.
This multilevel dance club is housed in Minneapolis' historic Lumber Exchange Building. It features a state-of-the-art light and sound system, go-go dancers and nightly cover specials. Doors open at 9 p.m. on Thursdays and at 10 p.m. on Saturdays and Sundays. Spin Nightclub does not allow ball caps or sneakers.
Spin Nightclub 10 S. Fifth St. Minneapolis, MN 55402 612-333-5055 spinmn.com
Karma
With nine crystal chandeliers, plush couches and an ultra VIP lounge with a private dance floor, Karma aims to provide an upscale entertainment experience. This Warehouse District dance club is open from 10 p.m. to 2:30 a.m., Thursday through Saturday. While Saturday nights are restricted to 21 and over, those 18 and over can dance to the DJs spinning hip-hop and R&B on Thursday and Friday nights. Club-goers can relax in a cabana on the Miami-styled outdoor patio.
Karma employs a strict dress code. It doesn't allow hats, hooded sweatshirts, white or black T-shirts, excessively baggy clothing, skin-tight outfits, sports apparel, flip-flops or sneakers. The cover charge varies, but free entry before 11 or 11:30 p.m. is the norm.
Karma 315 First Ave. N. Minneapolis, MN 55403 612-333-3200 karmampls.com