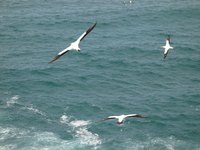 Ocean City New Jersey is located at the southern end of the state in Cape May County. It is a popular family resort named the beast beach in New Jersey according to a Washington Post article. It offers miles of beaches, a boardwalk with amusements and numerous places to eat. Ocean City maintains strict rules along its boardwalk and beaches that keeps it clean and safe for visitors.
Tag Rules
Ocean City requires that all beach-goers buy a beach tag. Tags are available for the season, week or one day. Seasonal tags cost $20.00 and are discounted if bought before Memorial Day. Weekly tags cost $10.00 and daily tags are $5.00. Children under 11 are not required to purchase tags. Tags can be purchased at the four locations; City Hall at 9th Street, the Welcome Center located on Route 52, the 46th Street Post Office and the Information Center at the Music Pier located on the Boardwalk. Tags can also be purchased from beach employees. All beachgoers must wear a beach tag. The beach tag rule allows the City to fund necessary projects that keeps the beach clean and safe.
Food
Food must not be left on the beach. Trash containers are available for food and trash disposal. Recycling containers are also available on the beaches. Cooking, bon-fires and grills are prohibited Patrons are expected to remove all debris from their beach site including trash, towels and food. Alcohol is prohibited on the beach and boardwalk. Automobiles and motorcycles are not allowed on the beach.
Animals
Animals including cats and dogs are not allowed on the beach. The city maintains this rule in order to keep the beach clean and protect wildlife. Dogs are allowed on the boardwalk during certain times. Feeding seagulls is prohibited on the beach and boardwalk. This rule helps to keep the areas free of bird droppings. It keeps intrusive birds away from patrons trying to enjoy the beach.
Surf Chair
The City offers a wheelchair accessible service Monday through Friday between 9:00 am and 5:00 pm. Visitors can bring a chair or rent from a vendor. Visitors can also bring or rent umbrellas.
Swimming
Swimming, surfing and boating is available at most of the beaches. Ocean City has 42 beaches that have life guards. Certain areas are marked that prohibit swimming. Life guards can set rules for visitors in order to protect them.