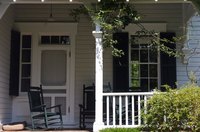 Homeowners insurance protects your home and most of its contents and outbuildings from perils named in the policy. As a financial instrument, your insurance protects your financial interests. When making a claim against your policy, learn how to communicate with your property insurance company, including asking good questions so the company will fairly compensate you for your losses according to the benefits you've purchased.
Temporary Living Arrangements
If your home becomes uninhabitable due to a fire, a natural disaster or another type of loss, you may wonder if your insurance company will cover temporary living arrangements. You can check with your insurance company and also read your policy declarations. A declarations page for an insurance policy explains how much of a benefit you are entitled to after any deductible. Your policy must include a coverage, such as Allstate's Additional Living Expenses feature, to receive compensation for temporary living arrangements.
Coverage for Contents
As a homeowner, your home's contents may sustain damage or loss from theft or another loss. If you have a covered peril (such as theft) on your homeowner's insurance policy, your insurance company should pay for the actual cash value. Work with the insurance company to replace contents, such as furniture, but keep in mind that the actual cash value is the replacement cost minus depreciation. An insurer reimburses you for replacing the contents, but be prepared to provide receipts.
Claim Effects on Underwriting
If you must make a claim on your homeowner's policy, you may worry that the insurance company will choose not to renew your policy or renew it at a higher premium. Your insurance company may decide not to renew your policy for a claim, but it must follow its published underwriting guidelines and state laws. According to the Missouri State Department of Insurance, Financial Institutions and Professional Registration, insurers will underwrite based on your credit score and/or traditional rating factors, such as a history of claims. If you get a nonrenewal notice, your next policy may cost you more from a different insurer, and some of the best companies may not write you a homeowners policy.