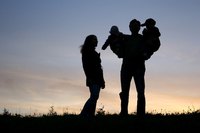 Since 1935, the U.S. Social Security Administration (SSA) has been overseeing a worker-funded old age, survivors, and disabilities insurance program, paying benefits when a worker has reached retirement, dies before retirement age, or becomes disabled. Social Security benefits vary according to the reason for the insurance claim and according to the contributions the worker has made over the years.
Retirement Benefits
In order to start receiving Social Security benefits, you now must be 67 years of age. The SSA has been gradually raising the retirement age for benefits; if you had been born before 1937, your retirement age would have been 65. The SSA does offer you the option to begin receiving benefits at the age of 62, but adjusts your monthly amount to account for the extra months of payments you receive. For example, if your SSA retirement age is 67, and you begin receiving benefits at 62, instead of a hypothetical $1,000 monthly check you would receive $700 to make up for the extra 60 months of benefits you are collecting.
Survivors Benefits
If a parent or spouse dies before reaching retirement age, the survivors may be eligible to collect SSA benefits. SSA bases its determination on death benefits by how long the worker in question has been paying into the SSA fund. Younger people are not required to have been working as long as older people. If the worker who dies leaves minor children, he need only have worked 1 1/2 years during the previous three for his children and their caregiving spouse to become beneficiaries.
If a worker had already retired and was collecting SSA prior to death, a widow or widower can take over as beneficiary of the account and collect the remainder of payments to which the spouse was entitled.
Disability Benefits
If you become totally disabled after working long enough to qualify for SSA disability benefits, you can collect payment. In order for SSA to consider you completely disabled, you must be unable to do the work you did before your disability, you must be medically unfit to work in another occupation, and your doctor must certify that your disability will last more than a year or result in death. Your spouse and your children can collect disability as beneficiaries on your account, but their benefits are limited by SSA to a total family amount that will be between 50 and 80 percent of the amount you are receiving.