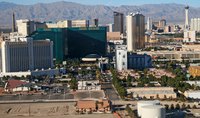 The Michelin Guide is published annually and evaluates and recommends hotels and restaurants worldwide. When evaluating restaurants, anonymous reviewers grade only the food on the plate, and not the atmosphere, the service or location of the restaurant. Establishments are awarded stars: one star denotes a restaurant that is very good; a two-star restaurant is excellent, and a three-star establishment is consider exceptional. Because of the poor economy, Michelin opted out of reviewing Las Vegas in 2010. In 2009, however, Las Vegas boasted 17 Michelin-rated restaurants.
Alize
Alize sits at the top of the Palms Casino Resort off the strip. Aside from its one Michelin star, it has four diamonds from AAA and Conde Nast Traveler Magazine dubbed it "one of the top new restaurants in the world," according to the Las Vegas Sun. If you are looking for a room with a view, do consider Alize, with a panoramic view of the east side of the Las Vegas strip. Alize offers French cuisine, attire is dressy and the restaurant is not suitable for children. Reservations are required.
Alize 4321 W Flamingo Road Las Vegas, NV 89103 702-951-7000 alizelv.com
Picasso
With the addition of Spanish dishes along with French entrees on the menu, Picasso, at the Bellagio, stands out with its two-star Michelin rating. True to its name, the dining room's decor features the artist's work. You can sit on the terrace overlooking the lake and the famous dancing water show. It is the food, though, that justifies not only the Michelin stars but the AAA Five Diamond award as well. Executive chef Julian Serrano, puts the French twist on his native Spanish cuisine.
Picasso 3600 Las Vegas Blvd. S Las Vegas, NV 89109 702-693-7223 bellagio.com

Joel Robuchon
Las Vegas has one Michelin Three Star restaurant: Joel Robuchon. Located at the MGM Grand, and serving traditional French cuisine, the intimate dining room seats only 50 guests. Mr. Robuchon changes the menu each season. Offerings include a multi-course tasting menu or ala carte specialties such as the signature dish, La Langoustine, a crispy fritter with pesto. Reservations are strongly recommended and the MGM Grand provides free limo service for those with reservations.
Joel Robuchon 3799 Las Vegas Blvd. South Las Vegas, NV 89109 702-891-7925 mgmgrand.com