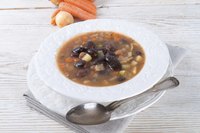 The Sugar Buster's Diet is a weight loss plan developed by Dr. Morrison Bethea, a cardiac surgeon and H. Leighton Steward, a geologist. The plan encourages you to limit added sugars and rapidly absorbing carbohydrates and focus on slow-absorbing fruit, vegetables, fiber-rich whole-grains and lean protein.
Slow-absorbing carbs have a low to moderate glycemic index, which means they provide a steady source of energy and prevent insulin spikes. The theory is that this helps keep you feeling full longer, decreasing your desire to snack. At least in the short term, a calorie-restricted, low-glycemic diet is more effective than one that is high-glycemic, according to a study published in the July 2014 issue of The American Journal of Clinical Nutrition.
Foods You're Encouraged to Eat
Whole-grains contain slow-digesting carbohydrates in the form of plant fiber, which helps keep your digestive system healthy and helps lower cholesterol. Eat whole-grains such as brown rice, whole-wheat bread, whole-oats, oat bran, wheat bran, quinoa, spelt, rye and barley.
Make fruit and vegetables diet staples. They contain fiber and vital vitamins and minerals that your body needs. Choose a wide variety of familiar and unfamiliar fruits and vegetables from your grocery store. Green leafy vegetables, such as broccoli, collards, spinach and turnip greens, are packed with nutrients. Eat everything from berries to citrus fruits and tropical fruits.
Seafood and lean meat are also encouraged. They provide the protein your body needs to maintain itself, as well as vitamins and minerals. Allowed foods include chicken, turkey, lean cuts of beef like sirloin, lamb, veal, and a variety of fish and shellfish. Good vegetarian sources of protein are tofu, tempeh, edamame, beans, lentils, nuts, seeds and eggs.
Healthy oils such as olive, peanut and walnut are allowed, and small amounts of butter if desired.
Choose low-fat or fat-free dairy foods like cottage cheese, yogurt, cream cheese and sour cream. Choose low-sugar options that have no more than 3 grams of sugar per serving.
Foods You're Encouraged to Limit or Avoid
The Sugar Busters Diet encourages you to limit or avoid added sugar and other foods that contain rapidly absorbing sugar. Added sugar is found in processed foods such as cookies, sugary cereals, sodas and cakes. You're also encouraged to avoid white bread, white rice and white or red potatoes, as well as beets, corn and corn products like cornbread. Some fruits and vegetables are also off-limits -- avoid parsnip, pineapple and watermelon. The idea is to choose options like whole-grain bread, brown rice and sweet potatoes instead.
Meal Ideas
Without all the added sugars found in so many processed foods, you'll have plenty of whole-food options to choose from. For breakfast you might have a spinach and mushroom omelette topped with salsa and a slice of whole-wheat toast. Or, a bowl of whole-grain cereal with reduced-fat milk and a banana. At lunch, eat grilled chicken breast topped with grilled cherry tomatoes, along with brown rice and steamed broccoli. Another lunch idea is grilled salmon, asparagus and a sweet potato. Dinner ideas are tilapia with spicy mango salsa, grilled eggplant and barley salad. Or, try bell peppers stuffed with lean ground beef topped with low-fat cheddar, grilled vegetables and quinoa.
Snack Ideas
If you're hankering for a savory snack try hummus with celery sticks and a handful of your favorite nuts, or tuna on flax crackers. Other savory ideas are low-fat cheese with whole-wheat crackers, black bean soup and deviled eggs. For sweet snacks try apple slices with a dash of cinnamon and cottage cheese, berry salad sprinkled with feta cheese, plain Greek yogurt with slivered almonds, banana slices with peanut butter and homemade trail mix with sweet wasabi peas for some tang.