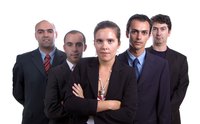 Conflict in the workplace hinders productivity and collaboration. According to the Conflict Solutions Center, managers spend as much as 40 percent of their time dealing with conflicts, and conflicts that go unresolved or are handled poorly are a major contributor to low employee morale. Unfortunately, conflict is bound to happen in the workplace, where people from many different backgrounds and opinions are brought together. Understanding how to work through workplace conflict constructively can help turn what could otherwise be frustrating situations into opportunities to create understanding and collegiality.
Setting Boundaries
Managing workplace conflict effectively requires that everyone know that it is OK to disagree, but within a set of guidelines governing behavior. For instance, it is perfectly fine for a colleague to explain how his point of view differs from another person's and why, but it is unacceptable for him to attack the other person with insults simply because he thinks the other person's idea or view is invalid. Make the boundary-setting process a collaborative one by having employees collaborate to create a set of rules detailing what behavior is acceptable and what behavior is not. When people feel like they have had a hand in setting the boundaries, they are more likely to abide by those boundaries.
Separating the Conflict from Individuals
On the one hand, when employees focus on the issue causing conflict, without making it personal, it is easier for them to focus on finding a solution that works for everyone. On the other hand, when people are unable to separate conflicting views from the individuals who hold those views, they may lash out at the people, making things worse. Help your staff members learn how to separate conflicts from coworkers by having activities that help people get to know their coworkers better, such as interviewing another colleague. These activities have the effect of helping create respect, and when people respect one another, they are less likely to hurl insults when conflict arises.
Teaching Responses to Conflict
When people understand why they react to conflict in the ways they do, they can more effectively manage their own behavior. Hold workshops to teach employees the various ways in which humans naturally respond to conflict and the likely results of each type of response. For instance, some people prefer to shy away from conflict, burying their heads in the sand, while others look for a place or person on which to place blame. Neither approach is conducive to finding solutions. However, people who are willing to listen to others' points of view and ideas, separate individuals from their ideas, points of view or interests, and compromise are more likely to find effective solutions and thus move forward from the conflict.