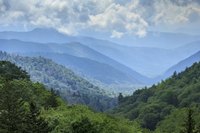 Soak up the landscape of Great Smoky Mountains National Park -- where rich green hills covered in low-lying haze roll endlessly, raging rivers cut through canyons and sprawling pastures bustle with wildlife -- all while someone else does the driving. Stretching across the rustic landscapes of Tennessee and North Carolina, the park is home to more than 800 miles of hiking trails. Most bus tours throughout the region focus primarily on short stops with scenic views and less on outdoor recreational activities.
Tour Time Frames
Diamond Tours and Country Music Travel run vacation tours throughout Great Smoky Mountains National Park that last anywhere from four to 10 days. Packages include meals, lodging and admission to other area attractions. Both groups provide transportation aboard a luxurious motor coach with TVs and bathrooms. Diamond Tours starts by picking you up at Knoxville's McGhee Tyson Airport, while Country Music Travel originates at Nashville International Airport or Memphis International Airport. Rocky Top Tours and Cades Cove Heritage Tours have half- or full-day narrated trips aboard a minibus. Rocky Top Tours leave from hotels and campgrounds in the park's gateway city of Pigeon Forge; departure points vary, so call ahead for information. The Cades Cove Heritage Tours begin at Great Smoky Mountains Heritage Center in the mountain town of Townsend, Tennessee.
Inside the Park
Diamond Tours and Rocky Top Tours transport visitors to Sugarland, the Smoky Mountains' main ranger station, where you can watch a short film on the park's history and landscape. Both excursions also include scenic drives along U.S. Route 441, a windy road through hardwood forests and along the Oconoluftee River and Newfound Gap, a mountain pass with lookouts at 5,046 feet. Rocky Top Tours and Cades Cove Heritage Tours include trips to Cades Cove, a 5,000-acre valley filled with pristine meadows and early 18th-century log dwellings, mills and churches. Buses travel along the region's 11-mile loop road, with occasional stops so you can explore the buildings on foot. During your vacation through Country Music Travel, the bus makes a trip to Clingman's Dome, an observation tower perched at 6,643 feet with sweeping views of the mountaintops and valleys.
Sights Outside the Park
The Smoky Mountains are home to kitschy resort towns, such as Pigeon Forge and Gatlinburg, both filled with scores of over-the-top miniature golf courses and go-kart tracks. Many of the tour companies, such as Diamond Tours and Country Music Travel, include admission to various dinner theater and country music shows in both cities. Some Country Music Travel packages also include tickets to Dollywood, the large amusement park in Pigeon Forge founded by Dolly Parton. Rocky Top Mountain Tours also has day trips from the Smoky Mountains to the lavish Biltmore Estates in Asheville, North Carolina, and Harrah's Cherokee Casino Resort in nearby Cherokee. Some of Country Music Travel's more extensive packages include trips to Atlanta, Nashville, Lexington and Louisville.
Age Appropriate
While none of the tours require strenuous activity, the Cades Cove Heritage Tour is especially appropriate for seniors because it involves limited walking in an area with very little elevation gain. With its trip to Clingman's Dome, Country Music Travel is geared toward more athletic types -- the walk to the observation tower involves a steep half-mile walk. Tours centered around Gatlinburg and Pigeon Forge, complete with theme park visits and family-friendly dinner shows, are well suited for families traveling with kids.