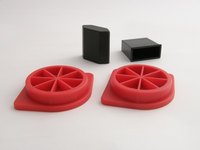 Manufacturing strategies for the plastic industry can closely parallel strategies for other industries. Plastics from traditional petroleum feedstocks are actually considered as secondary chemical production. Plastics are so widespread in their usage that many types of plastic manufacturing companies exist. One of the most important strategies for all types of companies focuses on environmental awareness and protection. Most plastics can be recycled and reused as a raw material. The design of business strategies for manufacturing plastics can be formed around an environmental platform.
Manufacturing Strategies
A manufacturing strategy can be defined to be a set of related objectives and implementation programs designed around a company's manufacturing function. The purpose of any manufacturing strategy is to develop long-term and sustainable competitive advantages in the market place. The manufacturer must ensure the company's function matches the market's supply and demand dynamics, and address supplier and customer capabilities and requirements. Once that is achieved, the strategy should mold manufacturing and production systems.

Manufacturing and Production Functions
In the plastics industry, it has been proven and generally accepted that the success of manufacturing and production functions correlates to the overall success of the company. A production function for a plastics-related company must align with the overall business strategies of the firm. Such programs can include continuous improvement of processes and procedures that will increase operational levels. Continuous improvement strategies can allow a company to produce products at higher rates, with higher quality and lower costs.

Quality and Personnel
Highly competitive markets, such as the plastics market, demand a strong attention to detail and product quality. Not only is product quality and consistency important, but the quality of a firm's personnel and their commitment to success is crucial to sustain a competitive advantage. Quality management programs must therefore be integrated with the manufacturing strategy of a company to ensure the satisfaction of customers. Failure to develop and implement quality programs concurrently within manufacturing strategies will lead to the breakdown of the overall business strategies of a company.