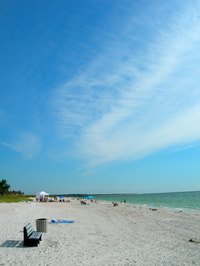 Found on Florida's scenic west coast, Sarasota is a popular beach destination. Luckily for travelers who want to take advantage of its 35 miles of beachfront along the Gulf of Mexico and its thriving arts and culture scene, there is an international airport directly within its city limits, and there are other easily accessible airports in nearby Tampa, Florida, according to the Sarasota Convention and Visitors Bureau. A number of different airlines provide service to the airports near Sarasota.
Sarasota Bradenton International
Situated conveniently in Sarasota, this airport boasts seasonal or daily flights to many domestic destinations, including New York City, Chicago, Boston and Atlanta, as well as international flights to Toronto, Canada, according to the Sarasota Bradenton International Airport's website. The airport has one main concourse with its ticketing and baggage claim nearby, and it offers car rental, short-term and long-term parking. Delta, Air Canada, US Airways, JetBlue, AirTran, Air France, Alitalia and KLM all serve the Sarasota Bradenton International airport's 1 million passengers a year.
Sarasota Bradenton International 6000 Airport Circle Sarasota, FL 34243 941-359-2777 srq-airport.com

Tampa International Airport
Tampa, Florida, is located about 50 miles away from Sarasota and has been home to a major international airport since 1971, according to the Sarasota Convention and Visitors Bureau. Serving more than 16 million passengers in 2009, the Tampa International Airport has, on average, 250 departure flights a day from 17 different commercial carriers. The four airlines with the largest market share are Southwest, Delta, US Airways and American, according to the Tampa International Airport website. The airport offers many shopping and dining options, as well as 22,000 parking spaces.
Tampa International Airport 4100 George J. Bean Parkway Tampa, FL 33607 813-870-8700 tampaairport.com

Tampa Executive Airport
Formerly known as Vandenberg Airport, the Tampa Executive Airport changed its name in 2009 so it wouldn't be confused with the Vandenberg Air Force Base in California, according to a "St. Petersburg Times" article. This airport has been operated by the Hillsborough County Aviation Authority since 1985, and it serves primarily corporate jets. It is located about a 15-minute drive from downtown Tampa, which is approximately 50 miles away from Sarasota, according to Tampa International Airport. This airport features upscale facilities for its private, luxury fliers, and it is also used by recreational pilots and flying schools.
Tampa Executive Airport 6582 Eureka Springs Road Tampa, FL 33610 813-626-1515 tampaairport.com