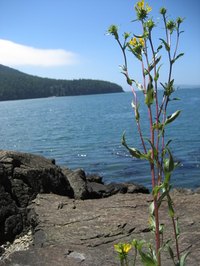 SeaTac Airport International Airport, located between and named for the cites of Seattle and Tacoma, Washington, is part of the Port of Seattle and hosts over three million passengers and 300,000 flights a year. SeaTac has dozens of shops, restaurants and enough services, such as business centers, currency exchange and Wi-Fi so travelers on short layovers do no have to leave the airport. For travelers on extended layovers, there are additional nearby activities not available at the airport.
Tyee Valley Golf Course
Tyee Valley Golf Course, located less than a mile south of SeaTac Airport, offers an 18-hole, 5,926 yard, par 71 regulation course. Tyee Valley provides a driving range and three sets of tee areas, cut to different lengths, to provide challenge to golfers of different skill levels. Tee-times can be made online, which can offer discounted rates on green fees.
Tyee Valley Golf Course 2401 S. 192nd St. SeaTac, Wash. 98188 206-878-3540 thegolfcourses.net
Burien Arts
Less than five miles from SeaTac, non-profit Burien Arts offers art exhibits, performances, concerts and music festivals. Established in 1965 Burien Arts sponsors productions of Shakespeare in the Park, community jazz festivals and juried art shows, among others, for residents and visitors at various venues around the city of Burien.
Burien Arts 14700 6th Ave. SW Burien, Wash. 98166 206-244-7808 burienarts.org
Hydroplane and Raceboat Museum
About 15 minutes south of SeaTac airport, the Hydroplane and Raceboat Museum, the country's only museum devoted exclusively to the sport of powerboat racing, is located in Kent, Washington. The museum details the history of hydroplanes and drivers, including the legendary Billy Muncey. Several championship boats, including the 1980 Miss Budweiser, that have been restored to full racing condition, are on display. Hours are 10 a.m. to 4 p.m., Wednesday, Friday and Saturday, and until 8 p.m. on Tuesday and Thursday.
Hydroplane & Raceboat Museum 5917 S. 196th St. Kent, Wash. 98032 206-764-9453
Saltwater State Park
Set on beautiful Puget Sound in the city of Des Moines, approximately 10 miles from SeaTac Airport, Saltwater State Park offers visitors almost 1,500 feet of seashore to explore. The park was dedicated in 1926 as a jester of peace between the cites of Seattle and Tacoma to end their history of rivalry when the cities literally buried a hatchet in the park. Park amenities include hiking trails, picnic tables, restrooms, a beach for swimming, an artificial reef for scuba diving and a café. The park is day-use only and open from 8 a.m. to sunset.
Saltwater State Park 25205 8th Place South Des Moines, Wash. 98198 360-902-8844 parks.wa.gov