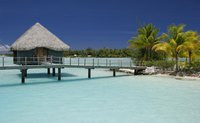 Known for its golden beaches, clear waters and laid-back atmosphere, Hawaii is an ideal vacation getaway for those looking to unwind and relax. While there are many popular vacation accommodations on each island, some visitors may wish to get away from it all and stay off the beaten path. For those seeking privacy and seclusion during their stay, Hawaii offers a variety of secluded vacation rentals.
Kahala Hotel and Resort
This secluded oceanfront resort features 338 rooms and suites, five restaurants, a spa, leisure facilities, fitness center, tropical gardens and a private lagoon with resident dolphins. Amenities include LCD flat-screen TVs, luxury toiletries, mini bars, coffeemakers, soaking tubs, bathrobes and 24-hour room service. The resort also boasts a pool, beach, wireless Internet access, business center and banquet facilities. Guests also may enjoy scuba diving, biking and surfing.
Kahala Hotel and Resort 5000 Kahala Ave. Honolulu, HI 96816 808-739-8888 KahalaResort.com
Kona Village Resort
This secluded, inclusive resort is a collection of Polynesian-style bungalows in an 82-acre enclave of gardens, lagoons, black lava, palm trees and black and white sand beaches. Its three distinct areas of lodging include amenities such as Kona coffee, juices and bottled water, private whirlpools, bathrobes, in-rooms safes, turn-down service, and island-inspired meals. For maximum relaxation and privacy, there are no radios, telephones and televisions at the resort. Activities include tennis, shuffleboard, racquetball, swimming, spa treatments, scuba diving and more.
Kona Village Resort Kohala Coast Kailua Kona, HI 96745 800-367-5290 KonaVillage.com
Makaleha Mountain Retreat
A custom vacation home located at the foot of the Makaleha Mountain Range, Makaleha Mountain Retreat is near hiking trails, waterfalls, rivers, and beaches. The two-bedroom retreat includes amenities such as a hot tub, outdoor shower, stereo, cable TV, hammock, refrigerator, stove top, washer/dryer, and barbecue grill. Guests also have access to beach chairs, mountain bikes and masks, snorkels and fins. Massage therapy also is available.
Makaleha Mountain Retreat 7124 A Kahuna Rd. Kapaa, HI 96746 808-822-5131 makaleha.com
Paradise Found
Located on Moloaa Bay in an isolated valley at the end of the road where the river flows into the sea, Paradise Found is a secluded beachfront vacation rental just minutes from Kauai's north shore. Its two units feature amenities such as full kitchens and baths, cable TV, Wi-Fi, CD and DVD players, washer/dryer, barbecue grills, outdoor showers and beach and snorkel equipment rental. Birds, whales, dolphins, turtles and monk seals often can be seen from the private deck, and nearby reefs are excellent for swimming, snorkeling, surfing and fishing.
Paradise Found P.O. Box 562 Anahola, Kauai, HI 96703 808-821-1567 Rfreedom.com
The Falls at Reed's Island
A featured property in the New York Times, the Falls at Reed's Island is a secluded bungalow-style vacation rental equipped with a computer, CD player, hot and cold soaking tub, full kitchen, linens, hairdryers, washer/dryer, barbeque, and robes. The Falls is close to restaurants and shopping, and nearby attractions include Mauna Kea, Hawaii Volcanoes National Park, Hawaii Botanical Gardens, Akaka Falls, and more.
The Falls at Reed's Island 82 Halaulani Place Hilo, Hawaii 96720 808-635-3649 ReedsIsland.com