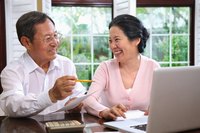 The Great Depression was a period of economic turmoil in the United States. Roiling the American economy over a 10-year period from 1929 to 1939, the Great Depression devastated the economic security of millions of Americans. Although people experienced difficult times, they learned valuable lessons that helped them survive such struggles. These lessons can be applied to modern times to make the most of each dollar.
Do It Yourself
While some home repairs are beyond the skill of most homeowners, there are many repairs that most homeowners are capable of doing themselves. Things that nearly every homeowner should be able to perform with minimal experience include unclogging a toilet and quieting a squeaky door. Instead of calling a plumber to unclog a toilet, simply learning to use a plunger can save hundreds of dollars in house calls. Purchasing and using spray lubricants solve the problem of the squeaky door. Homeowners can also watch online videos and consult home improvement articles to learn other skills that can help them move onto bigger and more complicated projects.
Cook at Home
Cooking at home was an important part of Great Depression frugality. Homemakers during this time period maximized food dollars by creating dishes that used inexpensive ingredients that were filling and could be reheated later for additional meals. Staples such as beans and ground beef can be the base for chili and can be complimented by fresh vegetables from a garden. The backyard vegetable garden was very popular with people during the Great Depression.
Avoid Debt
While the main story line from the Great Depression was economic turmoil, a takeaway lesson that many people learned was the importance of saving money. Saving money by avoiding debt was and still is an effective way of saving money. The best way to avoid debt is to delay large purchases by saving enough money to purchase the item with cash instead of going into debt for it. While this practice takes patience and discipline to work, it is a proven method for avoiding debt and eliminating interest expenses.
Create and Stick to a Budget
A budget is the key to financial security. During the Great Depression, people had to keep close tabs on all money coming in and going out. The same concept is still applicable. People can easily create budgets online or using spreadsheet software. The benefit of using these tools is that they do the math required, making the budgeting process much easier than it was during the Great Depression. Each dollar coming into the household should be matched to an expense or savings category, ensuring that each dollar is captured and put to best use.