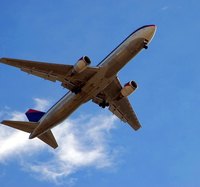 Finding the cheapest flights to Europe requires multiple and sometimes-concurrent Internet searches. Travel flexibility to avoid peak summer travel months or being enrolled as a full-time student may produce the best rates available. Because sales and deals can appear quickly, a different search platform can produce the cheapest European ticket with each new search. The same website or method may not work twice in a row.
Aggregator Travel Search Engines
Aggregator travel search engines like Kayak.com or BookingBuddy.com search many traditional booking engines like Orbitz and Expedia at the same time to sift through and arrange the cheapest flights to any European destination. Neither Kayak nor Booking Buddy sells tickets directly. They provide links to the traditional booking engines or the airline websites that do. Aggregator web sites save time and compare search results side by side. Once you enter the departure and arrival destinations as well as the flight dates on Kayak, the website offers a "flexible dates" calendar for the selected departure month on the right-hand side of the page. The calendar highlights the departure dates that have the cheapest fares to the selected destination. Searching for a flight on Kayak opens many smaller windows that show the results from different booking engines and airline websites. Selecting any result on the Kayak page offers links to websites that sell those quoted tickets. Booking Buddy completes a similar search with all results in the same window, with tab links to various booking engine websites.
Student Travel Agencies
Obviously, student travel agencies offer discounts to people enrolled in universities and colleges; but they offer deals to others, too. Through STA Travel, any full-time student who is at least 12 years old can receive flight discounts and purchase an International Student ID Card (ISIC), good for airline discounts booked elsewhere as well as for travel accessories purchased from several national U.S. companies. The same discounted flight rates can apply to travelers under 26. Students can save money while they educate themselves by taking advantage of STA's study, work and volunteer abroad programs. STA publicizes travel deals through Facebook, where the STA Travel page can be "liked" to be added to any Facebook user's news feed. Full-time educators can also take advantage of STA's flight discounts and purchase an ID card that can provide independent discounts with airlines and international tourist destinations. Another comprehensive student travel agency with links to destination activities, travel tips and hotels is StudentUniverse.com, which also sells the ISIC card.
Airline Websites
Airlines run their own specials that they do not share with traditional booking engines or student travel agencies. Those specials can appear and disappear quickly. News of those specials can travel the quickest through Twitter to those who follow the airlines from their accounts or through weekly email updates to those who have registered to receive them. Any flight to Europe should be double-checked with the airline's own website to make sure that any quoted rate is the lowest possible. Flexibility with departure and arrival dates or participation in an airline promotion may result in a lower fare than from the aggregator travel search engines or the student travel agencies. Booking directly with the airlines saves whatever booking fees may result from other websites.