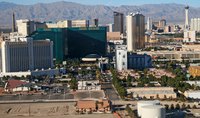 Known as the entertainment and marriage capital of the world, Las Vegas, Nevada, is a coveted vacation destination. Thanks to the city's popularity, the Las Vegas Airport (McCarran International) receives a high influx of people from all over the nation and world. The Las Vegas airport features two separate terminal structures, 96 aircraft gates and over 50 retail shops, as well as a variety of restaurants serving something for any craving.
Don Alejandro's Texan Grill
Don Alejandro's Texan Grill is in the main terminal area of the Las Vegas Airport. Don Alejandro's serves up fresh, authentic Texan-style Mexican cuisine comprised of family recipes that are centuries old. The atmosphere is warm, inviting and the surroundings boast Spanish-style architecture to add to your dining experience. Don Alejandro's offers a wide array of menu selections that range from soups, salads and omelettes, to a variety of entrees featuring the rich flavors and colorful dishes of Tex-Mex cuisine. Customer favorites served include the Lonestar burger with fries, flautas, huevos rancheros and enchiladas. Don Alejandro's is open for breakfast, lunch and dinner daily.
Don Alejandro's Texan Grill 5757 Wayne Newton Blvd. Las Vegas, NV 89119 Main Terminal Area 702-261-3113 donalejandrostexangrill.com
Port of Subs
Inside the McCarran Airport both at the D and B gates, the Port of Subs restaurant offers freshly made deli sandwiches. The sandwiches are comprised of bread that is baked fresh daily. A wide variety of quality farm fresh vegetables and high grade meats and cheeses are sliced to order, giving diners the option to create a fresh and unique, top quality sandwich. Port of Subs menu also offers grilled breakfast sandwiches, wraps, salads and desserts to complement and complete the meal. The restaurant is open every day and serves all three traditional meals.
Port of Subs Inside the McCarran Airport at the D Gate and B Gate 5757 Wayne Newton Blvd. Las Vegas, NV 89119 702-261-7456 portofsubs.com
California Pizza Kitchen
California Pizza Kitchen restaurant is in Terminal 1, D Gates, in the main lobby of the McCarran Airport. It serves a wide selection of both traditional and inspired creations, ranging from pizzas and salads to pastas and sandwiches. Customer favorites found on the menu include the Singapore shrimp rolls, BBQ chicken chopped salad and the BLT pizza, as well as Jamaican jerk chicken pizza and key lime pie for dessert. Pair your cuisine with flavored teas, lemonade or specialty cocktails like the cranberry mint cooler or apple-berry sangria. California Pizza Kitchen is open daily for lunch and dinner.
California Pizza Kitchen Terminal 1 D Gates, Main Lobby 5757 Wayne Newton Blvd. Las Vegas, NV 89119 702-261-4342
cpk.com