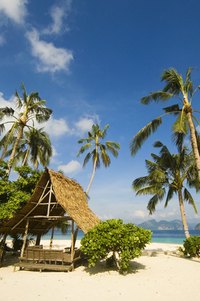 In Tagaytay, Philippines, luxury does not have to suffer when searching for an affordable resort. Many highly accommodating resorts exist to suit the needs of guests without breaking their pocketbooks.
Carrillo Garden Resort
Carrillo Garden Resort has deluxe cottages designed to suit travelers visiting this tropical location. This resort is located near Manilla and has many accommodations, including a king-sized swimming pool with waterfall, rooftop ballroom and close proximity to golf courses and horseback riding. A fully stocked Tilapia pond allows guests to catch their own fish and have it prepared by gourmet chefs.
Carrillo Garden Resort Paradise Road, Guinhawa South Tagaytay City, Philippines 046-413-0765 carrilloparadise.com
Estancia Resort
Built in the hills of Tagaytay, the Estancia Resort is located on the Taal Lake, far from city noise. The resort features outdoor pools, Jacuzzis, dart rooms and billiard rooms. Spa service, messages, trek tours and casino trips are also offered.
Estacia Resort Zone II Brgy. San Jose Tagaytay City, Philippines 046-413-1133 estanciatagaytay.com.ph
Sunrise Holiday Mansion Hotel
The Sunrise Holiday Mansion is a five-story facility hosting 170 rooms of various sizes. The resort's restaurants serve top-quality food in a myriad of different styles, including local Asian cuisine. Golf courses, basketball courts, bowling alleys, pools and Jacuzzis are a few of the amenities here.
Sunrise Holiday Mansion Royal Tagaytay Estates Alfonso Cavite, Philippines 046-413-2366 sunrise.com.ph