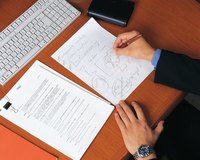 Entrepreneurs play a crucial role in developing solutions to many of the world's most daunting problems. Business innovators are required in every field -- from agriculture, to energy, to education -- and small businesses that have worldly constitutions may qualify for specialized international grants. Despite popular myths, however, finding and receiving grant funding for small businesses is not an easy task, as most grant-making organizations reserve the bulk of their funds for community and charitable organizations.
International Financiers
Some international banks offer grants to small businesses that demonstrate capable problem solving, especially in the areas of development and poverty relief. Two such examples are the Asian Development Bank and The World Bank (see Resources). The World Bank, especially, offers grants designed to "encourage innovation and assist in development projects"; they also play a pivotal role in mobilizing funds of partner organizations and redeploying them to small- and medium-sized business ventures. Between 1997 and 2009, the World Bank supported 160 priority programs and made grant contributions totaling $1.94 billion; in addition, the bank mobilized a further $13 billion from various partner organizations.

Big-Business Foundations
Many big-business foundations based in the U.S. and abroad offer grant assistance to small or startup companies that demonstrate social awareness, problem solving and community involvement. One of the high-profile foundations is the Bill and Melinda Gates Foundation, which channels most grant-making efforts into the area of global public health. Since 1994, the Bill and Melinda Gates Foundation (see Resources) has granted close to $23 billion to various initiatives. Other companies, such as Intel, Toyota, McDonalds, the BBC and Starbucks also contribute large sums of money to their high-profile grant-making foundations. The Starbucks Foundation (see Resources) is an international grant-making organization with a particular interest in the green sector. Most Starbucks grant recipients are nongovernmental organizations (NGOs) engaged in conservation or development projects, with particular emphasis on companies based in the United States.

Research Cells
Laboratories and research cells readily contribute to innovators in their various technological fields. Public health is one of the primary areas of concern. Organizations like the John E. Fogarty International Center or the Wellcome Trust, a U.K.-based international research center, support public health ventures that aim to bring a higher standard of living to those in low- and middle-income countries. The Global Fund is another example of a research cell dedicated to specific public-private investments in the health field. Small- or medium-sized businesses in the public health sector should consider research cells as a primary source for grants and funding, especially if the goal of the business is to help create a cleaner and healthier world.

Governmental Grants
Many governments set aside money for grant making; however, federal grants are not easy to procure, and many of them have strict and narrow guidelines regarding eligible for government funding. The energy sector is an especially big draw for governmental grants, and many small businesses may be eligible for governmental aid if they are looking to streamline their energy consumption.