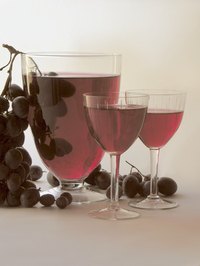 Research has shown that moderate amounts of red wine are healthy for your heart and can help prevent cancer, according to the Mayo Clinic. Muscadine wine is a red wine made using muscadine grapes that grow wild throughout the southeast United States, from East Texas and Arkansas to the Atlantic. They have the highest levels of antioxidants amongst fruit, according to the Nutraceutical Research Laboratories of the University of Georgia.
Lowering Bad Cholesterol
According to doctors at the MayoClinic.com, the antioxidants in muscadine wine lower the risk of coronary heart disease by reducing production of low-density lipoprotein (LDL) cholesterol. Also known as bad cholesterol, high levels of LDL can raise the risk of heart disease.
Raising Good Cholesterol
Moderate amounts of muscadine wine can also help raise levels of high-density lipoprotein (HDL), also known as the good cholesterol. High levels of HDL lower the risk of heart disease.
Inhibiting Tumor Development
Recent research by the National Cancer Institute has shown that the antioxidant known as resversatol, also found in muscadine wine, can help inhibit tumor development. Resversatol is a compound produced by the grape plant in an effort to fight fungus and other foreign invaders. It has been shown to reduce tumor growth in lab animals.
Moderation is Key
Doctors at Mayoclinic.com state that drinking muscadine and other wines -- in moderation -- is the key to benefiting from the powerful antioxidants they contain. They warn against overindulging in any alcoholic beverage, as this practice can cause other serious health issues. Moderation is defined as consuming an average of two drinks daily for men and one drink daily for women. One drink is defined as five ounces.