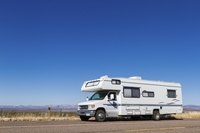 With its relatively benign climate, the Southwest represents a haven for naturists. The region comprises more than 20 resorts and clubs affiliated with the American Association for Nude Recreation, or AANR; many are in Texas, with a significant proportion catering to the RV nudist. Taking a textile-free "nakation," as nude RVing is referred to, is the ultimate expression of personal freedom. By ditching clothes and extensive packing lists, RVers leave the working world behind and immerse themselves in the business of relaxation.
Family Friendly
Sandpipers Resort in the Rio Grande Valley is a year-round resort in the Texas deep south that caters predominantly to repeat, long-stay visitors who maintain a guaranteed site for the winter months. Overnights or short-stays are possible, but RVers must still make arrangements in advance. Children under 16 must be supervised by an adult, and all new visitors are checked against the Megan's Law national database. The RV park can accommodate rigs up to 73 feet. In the Dallas/Fort Worth region, Armadillo Resort is another AANR member, set in woodland 20 minutes north of Weatherford. The park has a vibrant array of outdoor sports activities and evening entertainment, including karaoke, card games and a DJ night.
Adults Only
Live Oak resort near Washington is Texas' largest clothing-optional resort, bringing nudists together for more than 30 years. The park hosts theme parties year-round, the Club Larry nightclub and a party house. Many of the RV spots are permanent hookups, but the majority of RVs are there for transient visits. Emerald Lake Nudist Resort near Houston, with the only legal nude beach in the city, offers competitive RV rates to AANR members. On-site facilities include a spa, clubhouse, sports lounge and fishing on the 10-acre lake, which is also notable for its catfish and bird life. Whereas some Texas RV resorts are clothing-optional, Emerald Lake requires nudity unless weather precludes it.
Varied Stays
Bluebonnet Nudist Park is just under 40 miles from Fort Worth. It maintains a clothing-optional policy for women and children but a strictly clothing-free policy for men. The park is open year-round with plentiful outdoor activities, including an annual 5K cross-country race. Set among ranch country, Lone Star Resort in Navasota offers day rates or long-term membership packages for RV users. RVs are also available for rental. In the state's southern tip not far from Mexico, Natures Resort offers the full span of membership, from day use to yearlong. The park has a hot tub, heated pool, Texas barbecue and rental RVs with metered 50-amp hookups.
Legal Lake
Texas law allows topless bathing at the beach but requires bathers to be covered below the waist. Offenders risk being cautioned or even ticketed for full nudity. Hippie Hollow Park on Lake Travis near Austin, however, is the state's only clothing-optional public park, giving visitors the chance to relax at the water's edge in a safe atmosphere. Although the shoreline is rocky, there is easy access either by hiking trail or paved path. The most convenient RV parks serving the lake are the Star Ranch, which takes daily and weekly bookings, and the Lone Star.